Best Dribble Bibs – Marks & Spencer Dribble Bibs Review
|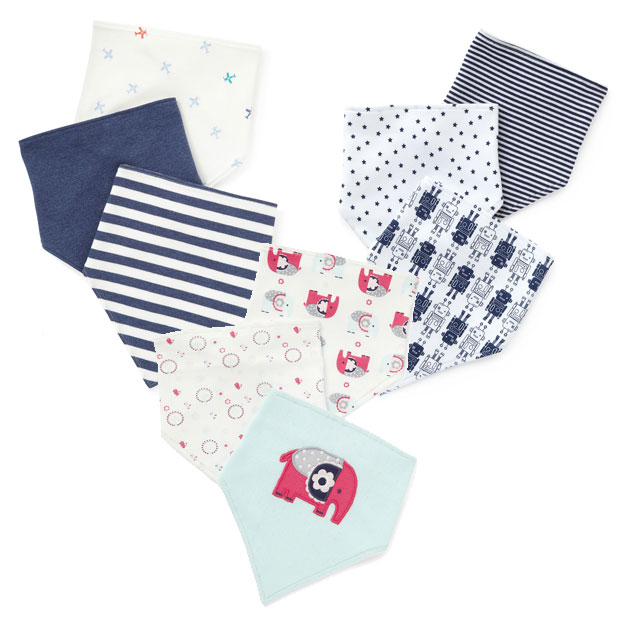 Best Dribble Bibs – Marks & Spencer Dribble Bibs Review
For a few months now, there's been A LOT of drooling going on in this house! Therefore, we use many dribble bibs to save changing and washing several vests each day. I've tried a few different brands and looked at many different kinds in store too and the clear winner of Best Dribble Bib is Marks & Spencer.
Whenever I feel I need some more bibs I find myself heading straight to M&S. Their bibs are a very cute bandana design that fits well and comes in many different designs that they update regularly. I've bought 4 packs so far so we have 12 M&S bandana bibs. The first lot that I bought do not have a towel lining, but the last two packs that I bought do. I like both variants equally. They are thick and absorb drool well and are very soft! The best bit is they have press studs – two so that you can adjust the size as your baby grows. They wash really well too – all of ours still look brand new.
I also have some Primark ones (like these but white/beige) and they are Velcro ones! If you've read my review on the Sunny Sail Shade, you know I do not like Velcro. I sticks to everything and these Primark bibs do just that in the wash and ruin other fabrics! Other than that they are fine.
Marks & Spencer now do a new style of dribble bibs (see image below) that are the same shape as the Primark ones but these come in lots of cute prints/patterns and have press studs! Great! I'll be getting these next time I need some more bibs.
The price is usually £6 for a 3-pack but you can quite often find some styles on sale for £4. Great for a good quality product.