Book Review: Imaginary Fred
|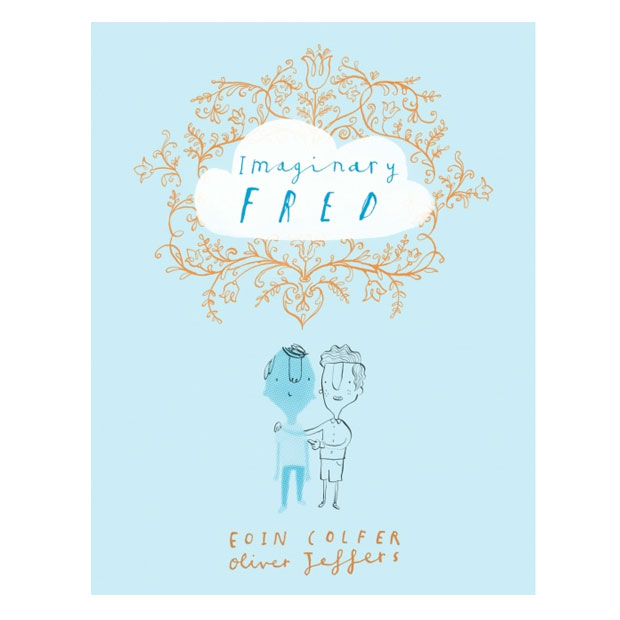 Book Review: Imaginary Fred
This children's book is like no other. Did you know that sometimes, if the conditions are just right and with a little electricity, or luck, or even magic, an imaginary friend might appear just when you need one? An imaginary friend like the one in this book — Fred.
Fred is the best imaginary friend you could wish for but no matter how hard he tries, the same thing keeps happening — his friend finds a real friend in the real world and Fred gradually fades away and has to wait to be wished for again.
One day, he thinks he's found the perfect friend, when a boy called Sam wishes for a friend. Everything is going really well, until Sam finds a real friend. But something magical happens too because Sam's new friend Sammi has an imaginary friend too. Her imaginary friend is called Frieda and really wants to be friends with Fred. It turns out, they make a great duo and Fred finally has a friend that will not forget him.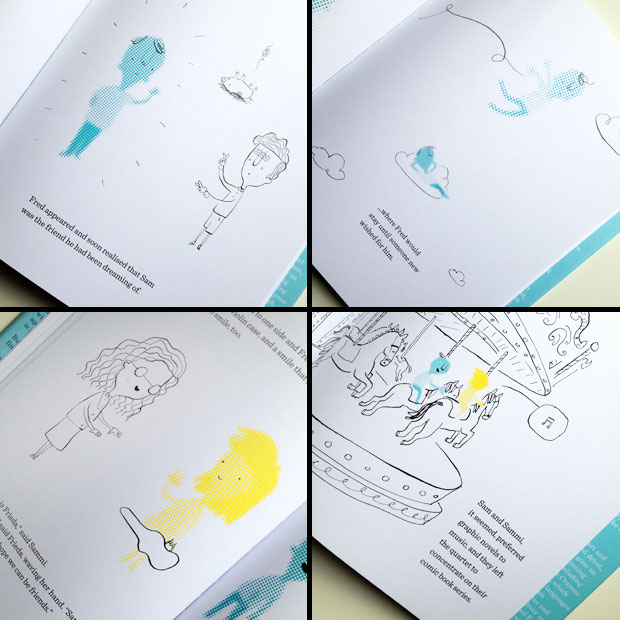 This book is the first extraordinary collaboration between the two children's books superstars Eoin Colfer and Oliver Jeffers. They work so well together and the chemistry between the words of Colfer and the beautiful artwork by Jeffers is perfect.
The idea itself is very original and interesting. We've heard lots of stories of children with imaginary friends but I've never seen a book that's from the imaginary friend's perspective before.
The illustrations are simple but effective line drawings with a few dashes of colour — mainly blue and yellow which is the colours of Fred and Frieda.
The story is beautiful and different and one that both parents and children will enjoy reading together. I hope this collaboration means more future ones too, because this duo makes brilliant children's books!
10 reasons everyone needs an Imaginary Fred
(a list based on the illustrations in the book showing Fred with all the children preceding Sam)
It's someone to play catch with…
They're happy to be summoned, so always there whenever you need them
They never complain!
They'll happily dress up in the silliest outfits you can imagine
They'll listen to music with you
They can help you work out how the toilet works
They'll turn your one-man play to a full dramatic cast
They understand your pidgin French

—

and even chat back
They'll always be there to read stories with
They can help you spot shapes in the clouds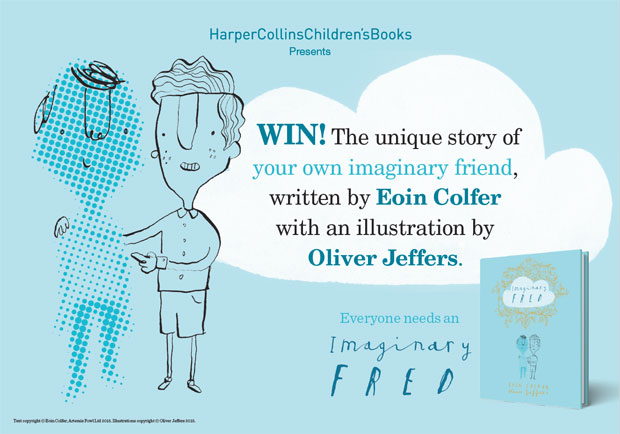 Competition
For a chance to win the unique story of your own imaginary friend, written by Eoin Colfer and with an illustration by Oliver Jeffers, go here, scroll down and follow the instructions.
The book can be bought from Amazon and other good book shops that sell children's books. I highly recommend it!
We were sent a copy of this book for this review. As always, all my reviews are 100% honest and all thoughts and opinions are my own.