Cheeky Mama Cotton Sanitary Pads from Cheeky Wipes Review
|
Cheeky Mama Cotton Sanitary Pads from Cheeky Wipes Review
There are so many great reasons to use reusable sanitary products! They are environmentally friendly, much more comfortable to wear and more affordable too. They also let your delicate intimate skin breathe — they're even less likely to cause yeast infections if this is something you have problems with. They come in lots of different types and sizes to fit your needs and different flows on different days of your period. They're really easy to care for too and once you have a stash, you will not have to buy any more pads for many years.
As I say — once you go cloth, you don't go back!
You might have spotted reusable sanitary pads from Cheeky Wipes on my blog before — I've recently featured them in The Best Cloth Pads for Postpartum Use – My Personal Favourites and have previously reviewed some of Cheeky Mama post-partum pads too. As you can see, Cheeky Mama pads are among my favourites!
I have a few new pads in my stash and they're the gorgeous ones featured in this post. The larger, dark grey one has a charcoal top and the other two a bamboo top.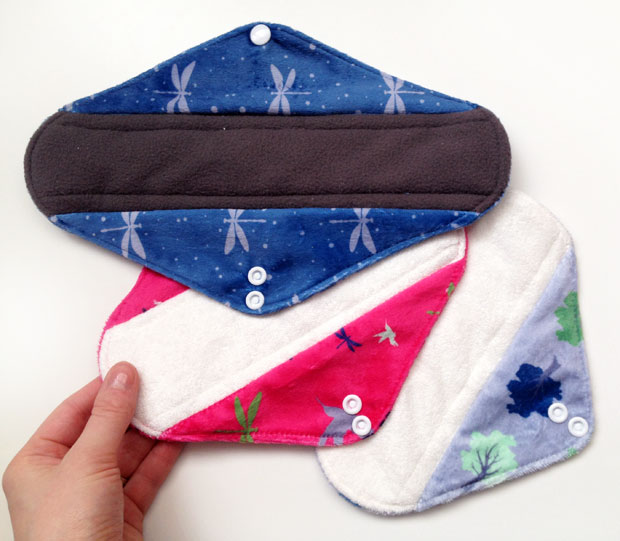 These pads are nice and thick but not bulky — they're very comfortable to wear thanks to the narrow design and supersoft minky outside. They have a microfibre core which makes them very absorbent so that you can wear them for longer. The minky outside layer is leakproof too.
Cheeky Mama pads are one of my favourite brands of reusable sanitary pads because of the comfortable design, soft fabrics and their absorbency too. I have very heavy periods now — they got a lot worse after Baby No. 2 — so I need heavy duty pads that I can trust to keep me protected but that are also nice to wear. Cheeky Mama pads are very successful at both these things.
This is how I described them in my previous review:
"The soft outer layer is lovely and fleecy and feels like a soft cushion against your privates which is much nicer than a disposable plastic pad full of chemicals!"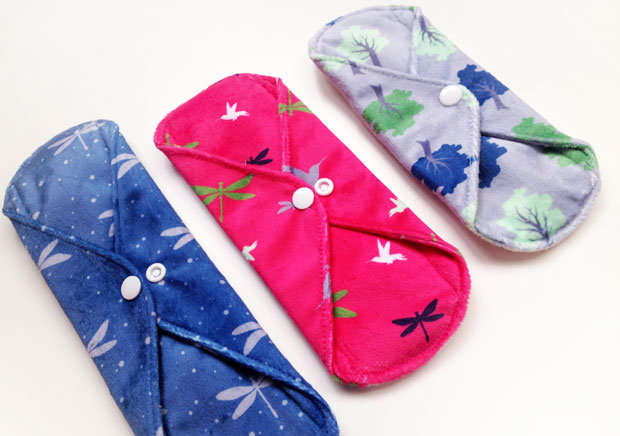 Now that my flow is very heavy, I tend to mainly use overnight pads for most of my period, then swap to the smaller day-time size for the last 1-2 days. The pads have wings to fit them in your underwear and two buttons for different size pants which is great. They don't move around much but I always advise to wear tight pants when using cloth pads as that will ensure your pad stays where it should be.
They wash really well too — my older Cheeky Mama pads that have been used for nearly two years look just as nice as these new ones. I'm a lazy washer and I don't rinse or soak my pads, just fold them together and put them in a wet bag until I put a wash on. I wash at 40 degrees usually and with normal detergent — no stain remover (though it's safe to use). One of my older bamboo pads has a very faint stain but not noticeable unless you know it. Rinsing or soaking in cold water and washing at low temperatures will help keep stains away. I do prefer the charcoal because it will never stain but this is only because I don't do the whole rinse/soak thing.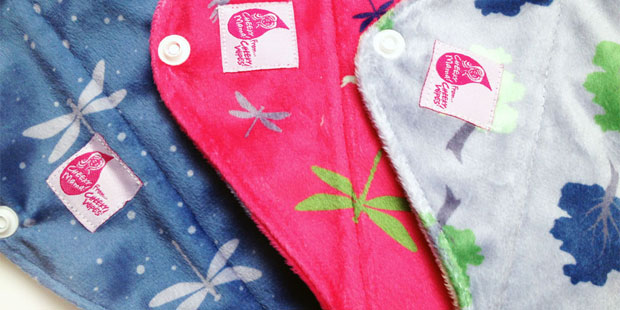 Cheeky Mama pads keep their shape beautifully too which is another big plus — the quality is really great. They're also very affordable at around £5 each. Find out more on the Cheeky Wipes website where you can find other sizes and colours too.
Read more posts about cloth pads here.
I was sent these pads for this review. As always, all my reviews are 100% honest and all thoughts and opinions are my own.