The Best Cloth Pads for Postpartum Use – My Personal Favourites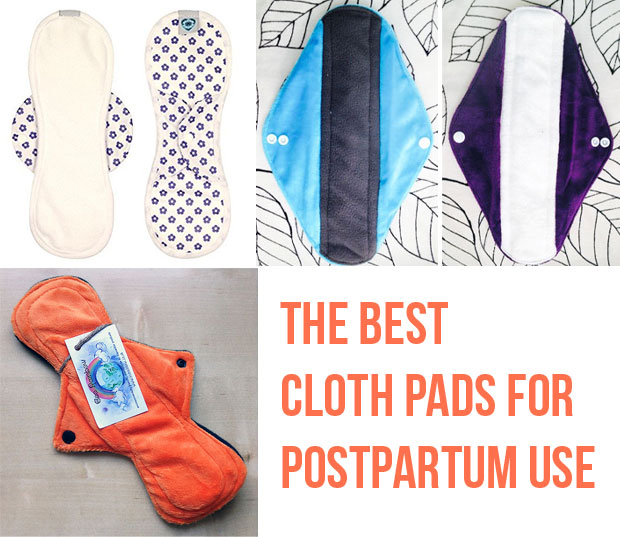 The Best Cloth Pads for Postpartum Use – My Personal Favourites
Update August 2020: I have now had another baby and used cloth pads postpartum again. Head over here to see a brilliant postpartum CSP set from The Nappy Gurus.
I was recently asked for advice about which cloth pads to go for to use after giving birth for postpartum bleeding so I thought I might as well share my favourites in a post here on the blog too. I've been using cloth pads for many years now and have tried quite a few different types and brands and here I will collect the ones that I think are the best ones for postpartum use.
Bloom & Nora Pads by Totsbots – Nora Stay Dry Mighty Size
These are amazing in many ways! They have a stay dry interior, a same slim fit, stay dry binding and edges to stop leaks. They also have a waterproof layer and a stay dry interior. Amazingly, the are also stain-repellent and stay white forever. I'm amazed every time I wash them and they come out of the washing machine looking brand new. The Mighty Size is the biggest one in a range of different sizes and because you can bleed quite heavily after childbirth, these are ideal for this as they're made for heavy-flow or overnight use. They also dry really quickly which is extra good postpartum when you need to change your pads very often. Read my full review of Bloom & Nora pads here.
Nora Stay Dry Mighty Size Reusable Washable Sanitary Pads are available to buy directly from Totsbots but also through Amazon and from The Nappy Gurus here where you can enjoy 10% off with this link or by adding my affiliate discount code AMUMREVIEWS at the checkout.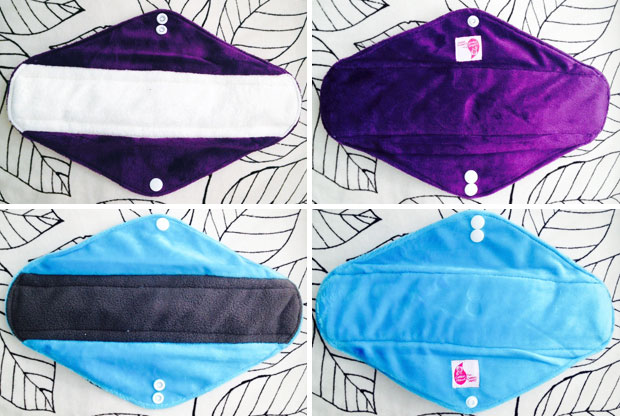 Cheeky Mama Cloth Sanitary Night Pads
Bamboo/minky pads from Cheeky Mama (Cheeky Wipes) are great for heavy flow days, overnight use or for postpartum bleeding. They come with a leakproof minky outer layer and layers of microfibre and bamboo on the inside. They are slim-fitting and very comfortable to wear. They have double press studs to ensure a good fit for you. They are not bulky at all even though they are night pads – you barely notice that you're wearing them. I really like the fleecy outer layer that is so soft against your skin and the bamboo is breathable which is great for your lady bits! Bamboo is also naturally antibacterial. They come in a rainbow of colours and you can choose between white bamboo or grey charcoal tops for the middle. The white is not stain-proof so I personally prefer the grey charcoal top as it stays looking new. Read my full review of Cheeky Mama pads here.
Cheeky Mama Cloth Sanitary Night Pads are available to buy directly from Cheeky Wipes but also through Amazon.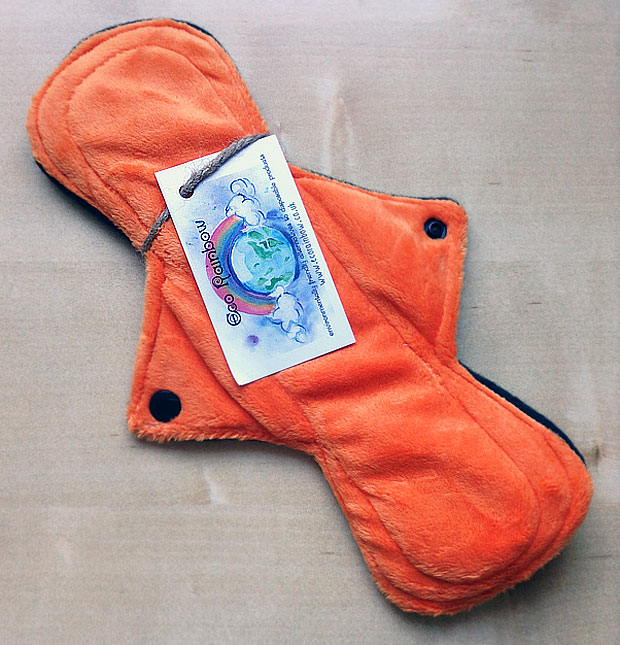 Eco Rainbow Night / Postpartum Cloth Pads
I have to include this pad as it's so soft and the most comfortable pad that I own thanks to the luxurious minky top layer that stays soft wash after wash. It's a really good size too – the right length and thickness to protect you from leaks but also small and thin enough to be comfortable to wear in the day or at night. It provides excellent absorbency and makes you feel dry and secure. Read my full review of the Eco Rainbow pad here.
Eco Rainbow Night / Postpartum Cloth Pads are available to buy from Earthwise Girls.

General tips for cloth pad beginners:
Wear a pair of tight shorts or leggings over your pants as this will ensure the cloth pad stays in place which will avoid any leaks. This is especially important overnight as you are laid down or if you're out and about moving around a lot.
You do NOT have to rinse or soak cloth pads. In my opinion and experience, that's a waste of time! Just pop the used pads in a wet bag and do a wash every couple of days or so and they'll be fine.
Use non-bio detergent and wash at 60 degrees (read the labels of your pads first!) and do NOT use things like harsh stain removers, fabric softener or vinegar when washing your pads as these can damage the materials and the absorbency of the pads.
Most pads can NOT be tumble dried so just hang them up to dry. If you're in a rush and need them quickly, hanging them on the radiator is usually fine and will dry them more quickly.
Read more about using cloth pads postpartum in the posts below:
Features old review samples and affiliate links.