Christmas Gifts for the Home & Family | a 2023 Gift Guide
|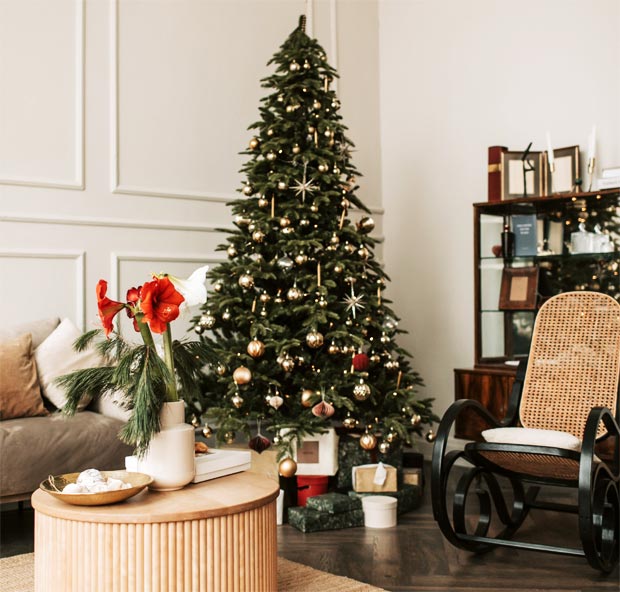 Christmas Gifts for the Home & Family – a 2023 Gift Guide | AD
Christmas is a time for focusing on your family and loved ones which is why I think Christmas gifts for the home and for the family to enjoy are an important part of the festivities. Beautiful and practical items that the whole family can enjoy, fun games to play together, and, of course, delicious treats to share!
---
Homeware Goodies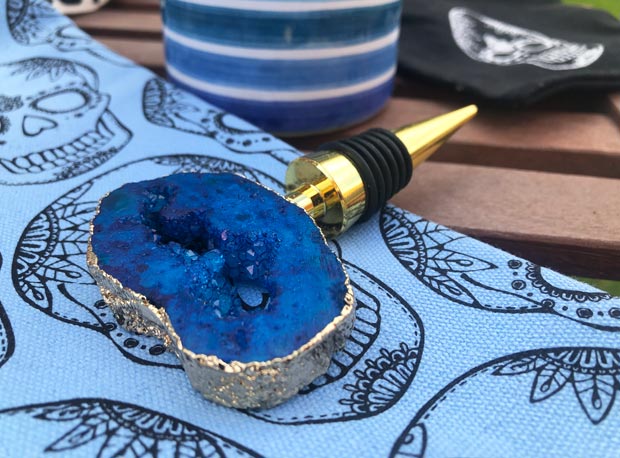 Premium Crystal Bottle Stopper from Xander Kostroma
Xander Kostroma makes beautiful jewellery and home accessories using semi-precious stones. The homeware section on xanderkostroma.uk includes a new collection of stunning crystal bottle stoppers which make wonderful Christmas gifts.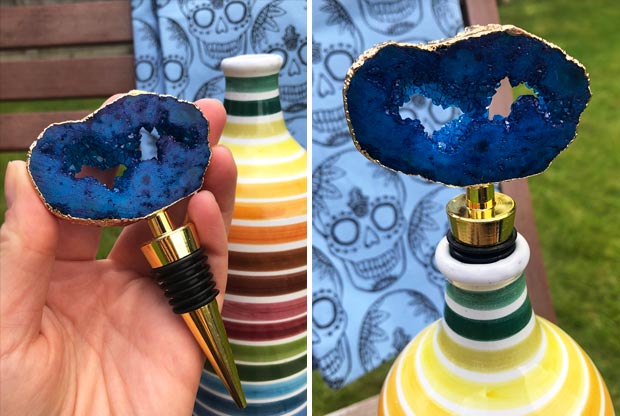 The crystals have been carefully selected and each bottle stopper is completely unique. The gold tone stopper that the stone sits on looks great with the crystal – what a great way to add a bit of glamour to your Christmas bar! The high-quality stopper will ensure an airtight closure to your beverages, keeping them fresh.

Xander Kostroma crystal bottle stoppers are handmade in small batches with new styles added frequently. There are several colours to choose from – currently Blue Agate, Quartz, Fuchsia Pink Agate, Black Agate, and Green Agate are available. Agate is believed to cleanse and stabilise the aura while eliminating and transforming negativity into positive energy.
This special gift comes beautifully gift wrapped, ready to be gifted to a loved one this Christmas.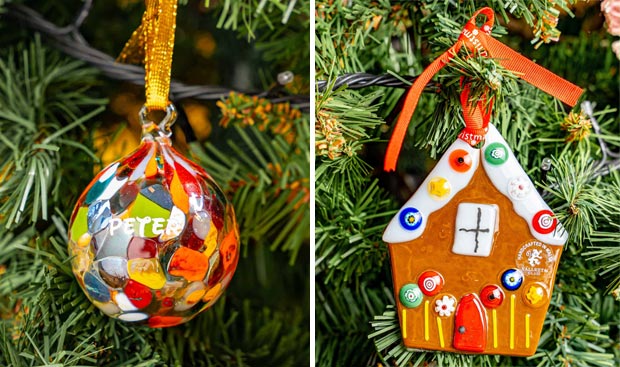 Valletta Glass Handmade Glass Christmas Ornaments
A unique Christmas decoration is sure to be a gift that will be treasured for a long time. Valletta Glass is an authentic glass-making company from Malta that uses ancient glass-blowing techniques to create captivating designs with intricate details and bursts of colour. The company makes handmade glass Christmas ornaments and unique jewellery – there are lots of special items to choose from to gift to your loved ones this Christmas.
Here you can see some of my favourite items from Valletta Glass – the handblown Engravable Baubles that are available in different colours and can be personalised with a name in a selection of fonts and the adorable Gingerbread House Ornament that is sure to make the recipient smile.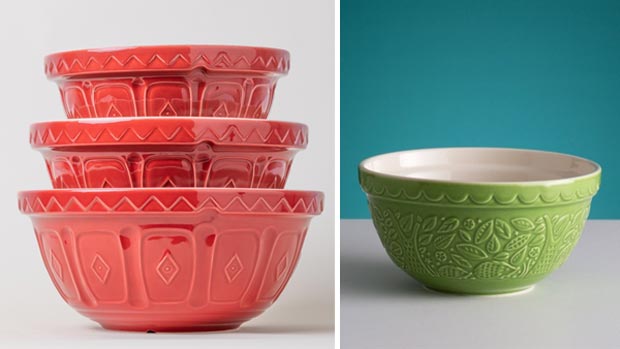 Mason Cash mixing bowls were first developed in 1901 and have stood the test of time. They are classic kitchen staple and can be used for lots of different things. The bowls are available in a gorgeous range of colours, in different sizes, and in a variety of patterns too.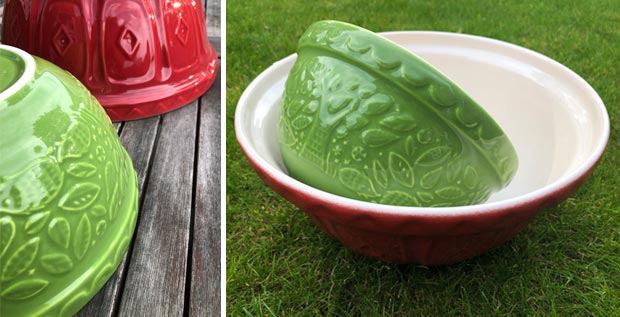 For Christmas time, you can't beat the colour combination red and green. Here, you can see the best-selling In The Forest S30 Green Mixing Bowl 21cm and the Colour Mix S12 Red Mixing Bowl 29cm.
These beautiful mixing bowls are made from high quality, chip-resistant earthenware and can be comfortably held in one arm. The patterned design of the exterior and the the rim of the bowl also help ensure a good grip, whilst looking great too! The shallow shape of the bowls mean that you can knead dough inside the bowl which is so handy.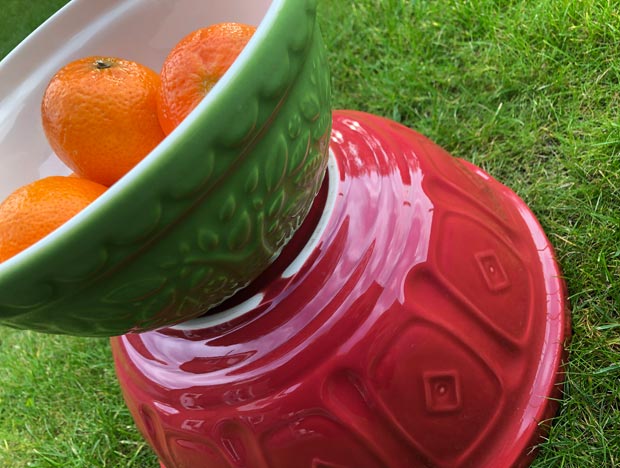 Mason Cash mixing bowls are ideal for making doughs for breads, pizzas, or buns, for baking cakes and cookies, for serving salads, or for simply displaying your current fruit selection. Doesn't the green look wonderful with clementines in it? These bowls make a great Christmas present for anyone who loves to bake or cook.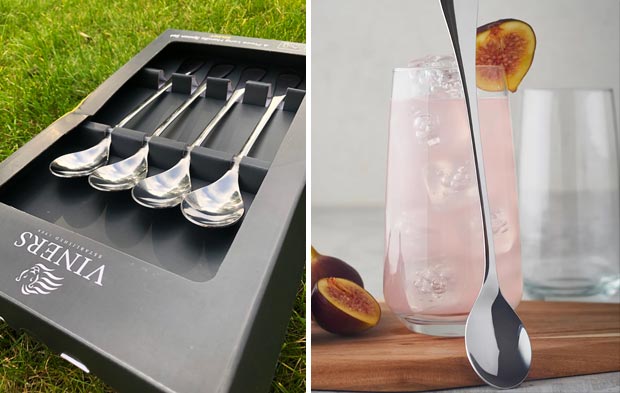 High-Quality Kitchen Gifts from Viners
Viners is a trusted brand that was established in 1908 in Sheffield. It's the most recognised cutlery brand in the UK, with classic designs and high-quality products. Viners have lots of lovely products that would make excellent gifts for the home. Here, you can see their Long-Handled Spoon Giftbox and their Everyday Frying Pan Non-Stick 22cm.
The long-handed spoons are so versatile – use them for lattes or hot chocolate, for mixing tall cocktails, for ice cream sundaes and other desserts, for example. They have a beautiful slender teardrop handle shape that is perfectly balanced. The spoons are made from the finest quality 18.0 stainless steel, polished to a mirror finish. They are rust-resistant and can be washed in the dishwasher. These lovely spoons come delivered in a gift box which is perfect for Christmas!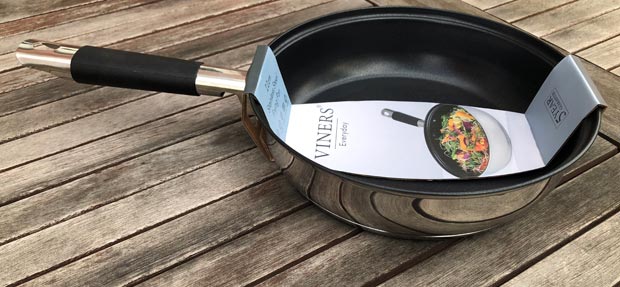 Good quality everyday items, like the items from Viners Everyday pots and pans range, make a great addition to the home. We have the Everyday Frying Pan (Non-Stick 22cm) which is a great frying pan for everyday use. It's stylish and sturdy and I love that it's a deep pan as it makes it suitable for a wide variety of dishes. The deep sides also help prevent splashes! The pan is made from stainless steel and features a non-stock coating and a specially designed soft-touch handle for ultimate comfort and grip. It's suitable for gas, electric, ceramic, induction and halogen hobs, and can be washed in the dishwasher.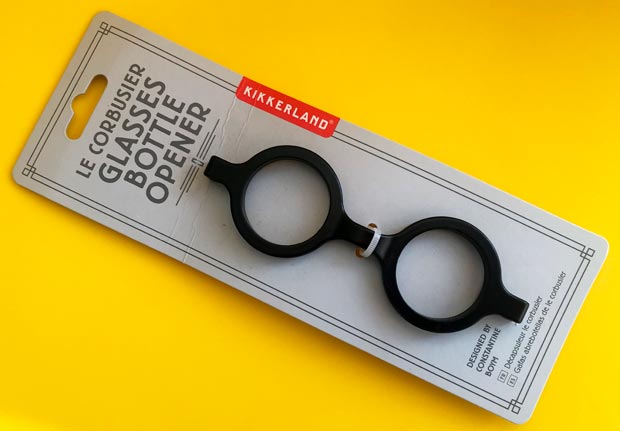 RA Le Corbusier's Glasses Bottle Opener
Here's a gift for families who are enthusiastic about design! This bottle opener has been modelled on the iconic spectacles of Swiss-French architect, designer and artist Le Corbusier. It looks great and is a pleasure to use too. The RA Le Corbusier's Glasses Bottle Opener by Kikkerland is made from durable zinc alloy with a black finish. Kikkerland are experts at finding original designs that make everyday life more fun and enjoyable and this bottle opener is not an exception!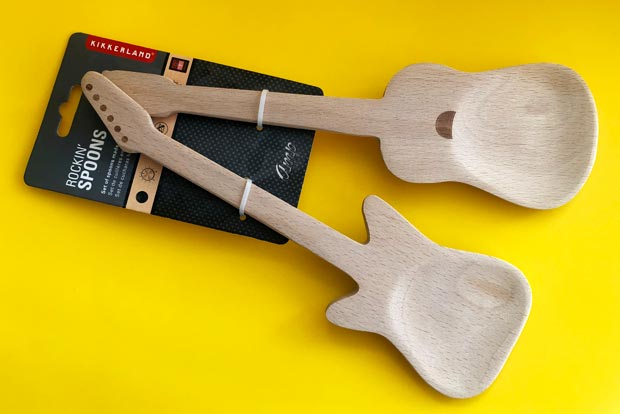 Kikkerland Beech Wood + Rockin Guitar Salad Servers
I love Kikkerland's fun range of products, and these Kikkerland Rockin' Guitar Salad Server Spoons are a great way to add some fun into the kitchen this Christmas. These unique wooden spoons can be used for serving salads, for stirring sauces, soups, batters, and more. They look amazing and are crafted from high-quality beech wood to offer durable performance. They are safe to use on non-stick cookware and are heat resistant too. Great for a music-loving, foodie family!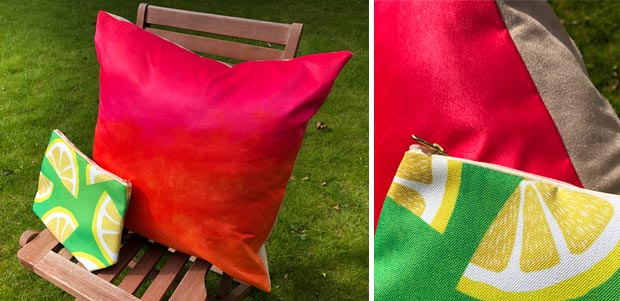 If you want to create some unique home gifts for your friends and family, you can do this with ASDA Photo. There are lots of products for the home available on their website that you can easily personalise with your own photos and designs. This is a great way to create one of a kind personalised gifts for your loved ones. I especially love their Personalised Cushions and Personalised Toiletry Bags. They're great quality and there are lots of great designs available that you can add your own photos too.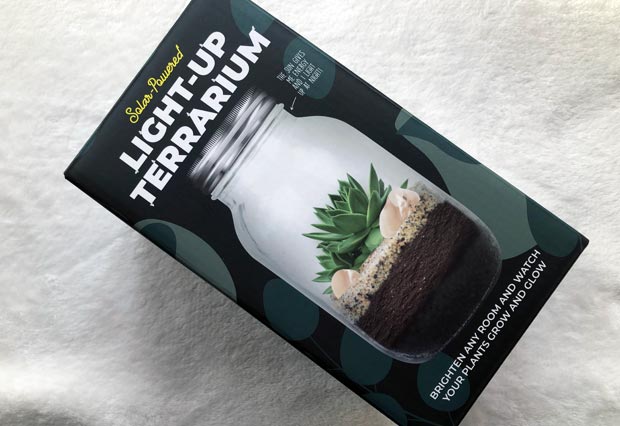 A gift of greenery! This cute light-up terrarium is solar powered and a great way to add a bit of greenery and magic to any room. The kit includes everything you need to get started (a solar-powered light-up terrarium, sand, water pipette, 4 x compost discs, 3 x zen stones, draining pebbles, bamboo tweezers) and instructions to guide you through the process. You leave your terrarium in direct sunshine during the day to recharge the batteries, then you can enjoy watching your beautiful plants shine in the light at night. Available from Waterstones and giftrepublic.com
---
Family Fun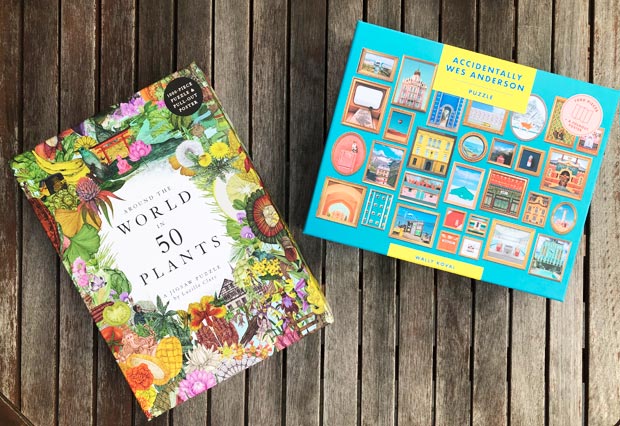 Beautiful Jigsaws Puzzles
The Christmas holidays is the perfect time to enjoy building jigsaw puzzles with your loved ones. Laurence King always have lots of beautiful, fun, and stylish options to choose from. Here you can see the Around the World in 50 Plants jigsaw and the Accidentally Wes Anderson puzzle. Both stunning options and with 1,000-pieces.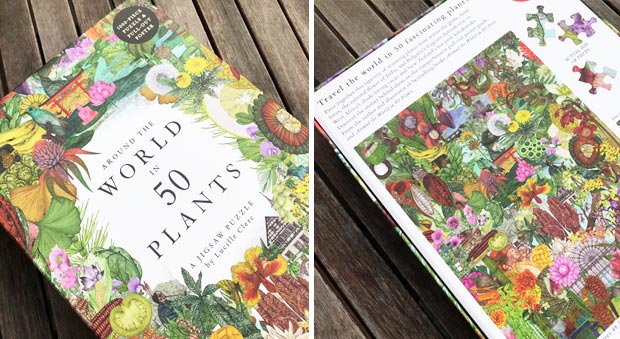 Around the World in 50 Plants is a beautiful botanical jigsaw that features illustrations of 50 of the most stunning plants known to man. The gorgeous illustrations by Lucille Clerc are perfect for a puzzle challenge and a pleasure to look at. The jigsaw comes with a comprehensive poster guide by best-selling author and expert Jonathan Drori CBE that includes facts about how these plants are intricately entwined with our own history, culture and folklore.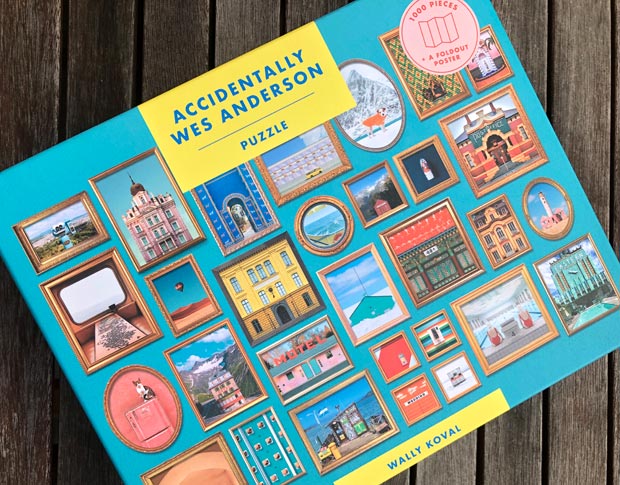 The Accidentally Wes Anderson Jigsaw Puzzle is perfectly quirky and a great gift for fans of Wes Anderson especially. The stylish jigsaw features photographs inspired by the director's unique style with photographs from the Accidentally Wes Anderson locations spotted all around the world. The puzzle comes with a double-sided poster with one side that shows the picture from the jigsaw and the other a map with fun facts about the locations that are featured in the puzzle.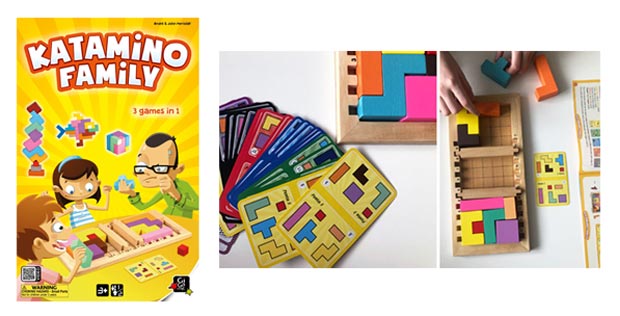 Katamino Family is a great game for the whole family to get involved in and makes a fun Christmas gift. It is suitable from 3 years onwards with lots of different challenges for different levels. The aim is to fill your space with the imposed pieces. You can play on your own in solo mode and challenge yourself to fill the board, build balancing towers, 3D figures and more. Or, you can play in duel mode with the aim to be faster than the person you are playing against. Choose your level from the many different cards and get playing.
Katamino Family is ideal for anyone who's into logic and construction games! There are lots of ways to play and it's so clever that the same pieces can be used for so many different fun and challenging activities. Katamino games are available from amazon.co.uk and all good Hobby Stores.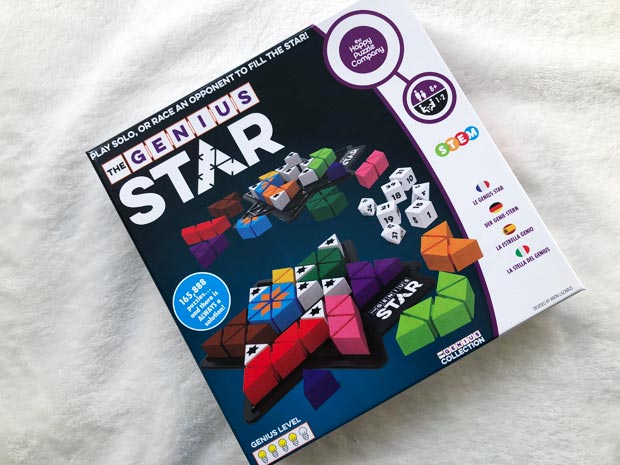 The Happy Puzzle Company The Genius Star
The Happy Puzzle Company have the best IQ games! We have their legendary Genius Square game that we love and are very excited to now have the Genius Star puzzle too.
The game features 165,888 possible puzzles to complete which is sure to keep you busy for a very long time! To start you use the dice which will decide where the seven blockers will go. Then you need to fit the eleven coloured shapes… There will always be at least one solution though it can be very difficult sometimes.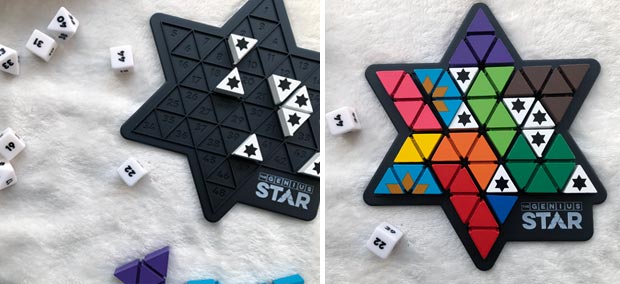 There's a new twist to the challenge too, in the shape of a Golden Star that appears when you put the two light blue pieces next to each other. 57.4% of the puzzles have a solution where you'll be able to build the Golden Star into the solution which will give you a double win. If you're struggling with this, you can visit a website dedicated to showing whether the Golden Star is possible to achieve with your given coordinates.
You can play the Genius Star puzzle on your own or against someone else as there are two sets included in the box.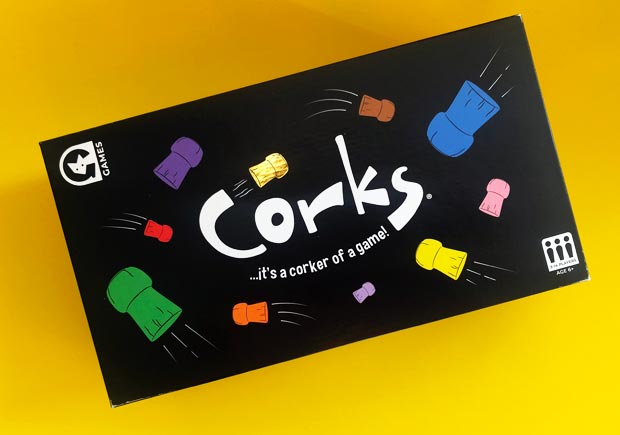 Here's a great game for some party fun! Corks is a fast card game of elimination, speed, thought and co-ordination but you might also need to be a bit cunning to win!
It's easy to set up and play with a few variations to choose from. The game includes 56 Corks game cards and 15 wooden corks. To play, set up the corks on the table – you'll need one fewer than the number of players.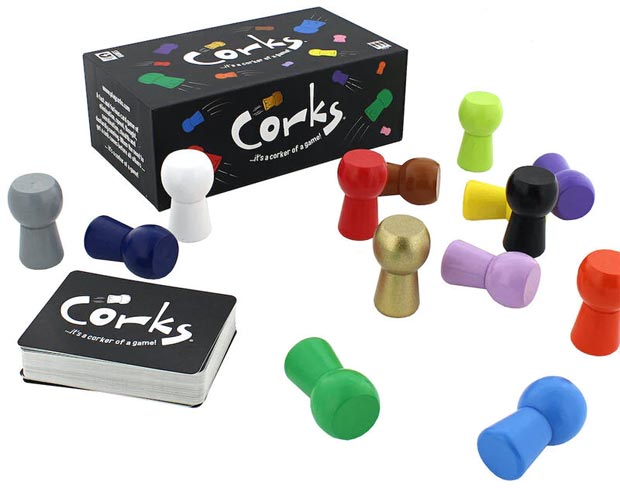 The cards feature pictures of corks in different colours. Each player has four cards and discard one to the next player when it's their turn. The goal is to have four of the same colour cards and, when you do, you take a cork from the table. Then everyone else needs to take a cork too and the last one to do so is out. You can be discreet when taking your cork or completely obvious – it's up to you. When you're down to the last two people playing, you play for the special golden cork!
It's a fun and fast game and I can see it being even more fun in larger groups so it's ideal for Christmas parties or large family gatherings.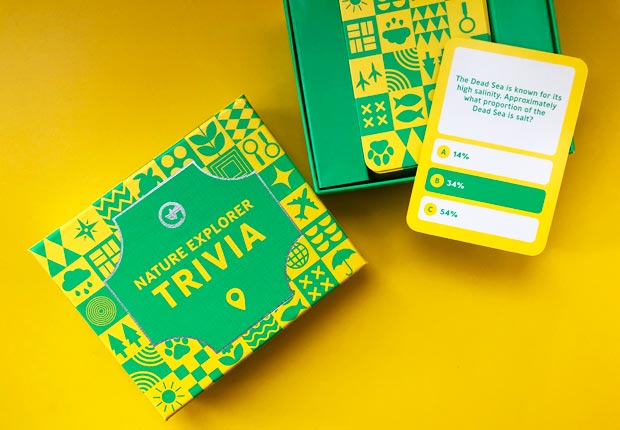 Ginger Fox Nature Explorer Trivia Card Game
Ginger Fox has a new range of themed trivia games that are ideal for Christmas family fun. Choose from Film Fanatic Trivia Card Game, Book Lover Trivia Card Game, and Nature Explorer Trivia Card Game – or collect them all! These games are recommended from age 14 years+ but younger player can definitely enjoy playing them too and join in with the multiple choice questions.
We have the Nature Explorer Trivia Card Game which is perfect for anyone who loves the outdoors and wants to test their knowledge and/or learn new things. These games are compact so can be enjoyed anywhere. You earn points by correctly answering a series of questions and can earn extra points by answering them without the multiple-choice answers. Each box includes 120 question cards.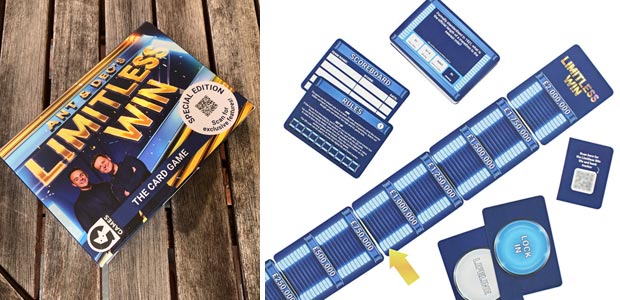 Ginger Fox Ant & Decs Limitless Win Card Game
For fans of the TV quiz show Limitless Win with Ant and Dec, here's a travel friendly version of the game that you can play at home or on the go. There's also a large board game version of this game available from Ginger Fox.
Ant & Decs Limitless Win Card Game is a cooperative game where the players work together to answer trivia questions to see how far up you can climb the Limitless Win money latter. To win, answer 10 questions by either giving the exact answer or a number that is below the correct answer to bank as much "money" as you can. If you answer higher than the correct answer, you lose.
The game is suitable from 8+ years and fun for families to play together – it's exciting but you're also learning new things at the same time.
---
Delicious Treats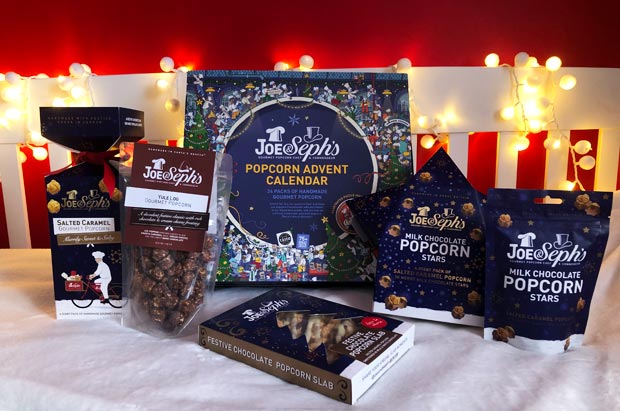 Joe & Seph's Christmas Treats
Christmas is the perfect time for sharing delicious treats with your family or to treat your loved ones to some tasty edible gifts! Joe & Seph's, the gourmet popcorn family business, have launched a range of festive goodies that are now available to purchase ready for Christmas.
The festive Joe & Seph's popcorn selection includes lots of lovely gifts, including chocolate truffles, seasonal festive popcorn flavours, Milk Chocolate Popcorn Stars, Festive Chocolate Popcorn Slabs, Advent Calendars and gift boxed goodies. You can read all about these festive releases in my Christmas Gourmet Popcorn Treats from Joe & Seph's article here.
There you have it – my top gift choices for the family and the home this Christmas!
Collaboration.