Colourful Storage Ideas for Our New Playroom
|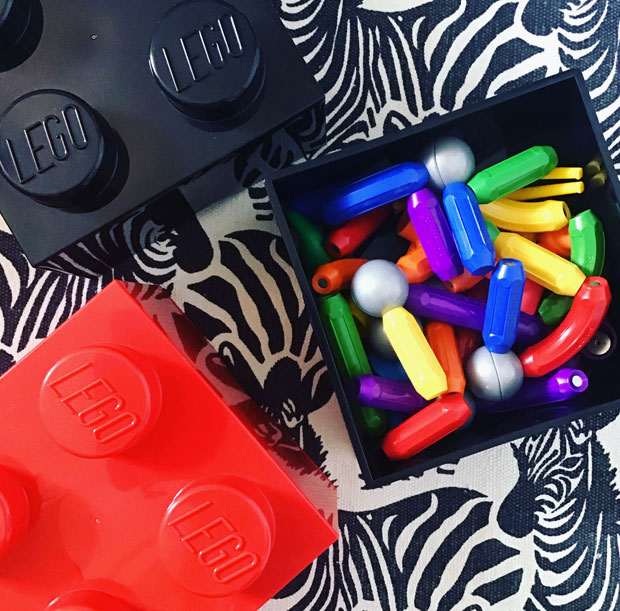 Colourful Storage Ideas for Our New Playroom
We're finally moving to our new house later this year and, as we're moving to a larger house, we'll have much more space to enjoy. One thing we're really looking forward to is having a playroom for the girls to keep all their toys and to play freely in. This room will also house a desk as that's the most practical solution but it will be mainly focused on play so we want to make it fun and colourful. It also needs to be a practical room with clever storage solutions for all the different types of toys. Decorating a children's room will definitely be one of the most fun tasks when kitting out the new house!
Here's how we plan to store the wide selection of toys that the kids play with: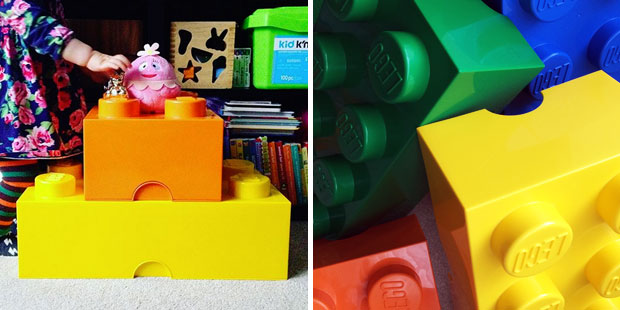 My obsession with these boxes started a few years ago. Well, it actually started with the Lego heads that you can see below — we use these to store nappies, wipes, a changing mat and spare clothes. Soon after, I spotted the storage boxes that look like huge Lego bricks and I fell in love. We're big Lego fans in this family and I also love bright colours in interior design so I thought they'd be perfect for us and they are. They come in different sizes and can be stacked together (just like real Lego!) and they can hold quite many Lego bricks or other toys.
What I also love about them is that you can play with the boxes themselves if you have a few and build forts and things like that. We have just expanded our collection with a couple of more Lego storage bricks from Red Candy — a stunning red one and a cool black one in the square smaller shape. You can see them in the top photo of this blog post. They are beautiful and arrived in great condition (unlike most the ones I ordered from Amazon and had to send back to get replaced…). These will look so great in our new playroom and are sure to brighten the whole room up with their fun colours!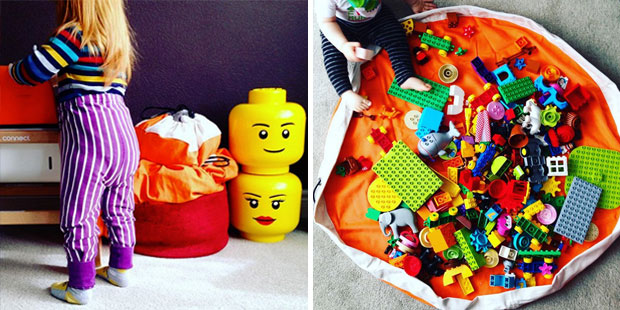 Stuffel bags are another favourite in this house. We have a few different colours and sizes and they're great for our Duplo and Playmobil, especially. They're great for regular Lego bricks too but my husband likes to keep these separated by colour so they're in bags in the Lego storage bricks mentioned above. What's great about Stuffels is that they not only store toys and keep them neatly together, the bags also make a playmat that you can use anywhere and cleaning the toys up at the end of the play session is a breeze as you just pull the strings to close the bags up and that brings all the toys together. Currently, we store the larger Stuffel in a basket and add a smaller one on top but I might get some hooks up on the wall in the new playroom to hang them up instead. I've not quite decided yet.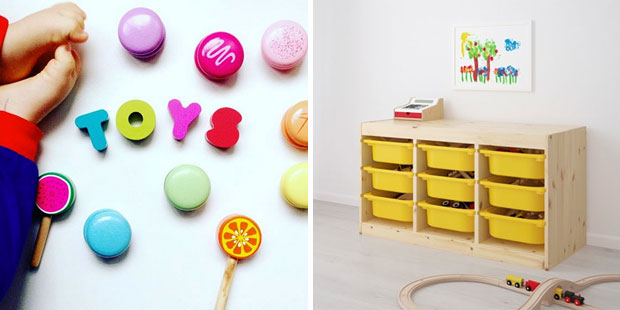 IKEA Trofast Storage Combination
I would like to get a Trofast storage unit from IKEA for the new playroom as well, to store all those other toys that need a home too. They come in different constellations and colours and the drawers are available in different sizes and colours which can help young children remember which toys go where. I think I will go for the wooden frame as it will last longer than the particle board that the white and brown options are made from and for the boxes/drawers, I will probably choose yellow, orange and green.
These are some of my plans for creating a playroom full of fun, clever and colourful storage. I can't wait to actually decorate the room and get it all sorted!
We were provided with a couple of Lego storage bricks from Red Candy for this post. As always, all my posts are 100% honest and all thoughts and opinions are my own.