Dotty Fish Tag Blanket Review – Woodland Design
|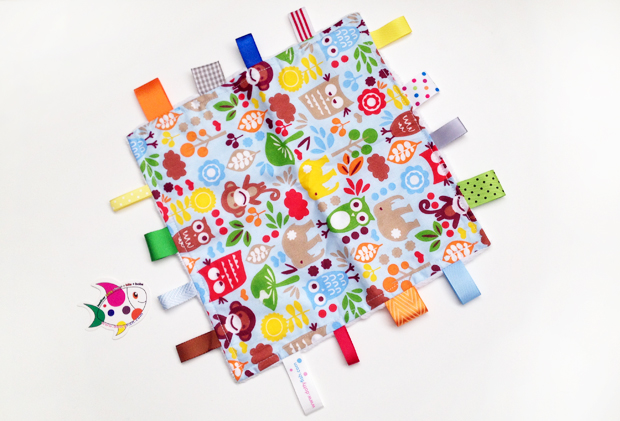 Dotty Fish Tag Blanket Review – Woodland Design
This product seems quite simple but babies really love this kind of thing. The Dotty Fish Tag Blanket is a 23cm x 23cm piece of fabric made from a cotton mix. We have the Woodland design which is blue on the patterned side and has a lovely animal print with cute monkeys, owls and elephants plus other nature elements such as leaves, mushrooms, flowers and berries.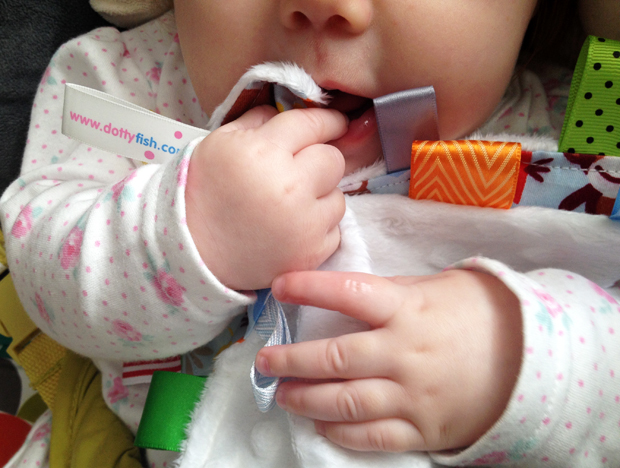 Each tag blanket has 16 colourful ribbons lining the outside edges of the square. The colours have been chosen to co-ordinate and match the print on the fabric. The printed fabric is nice and soft and the other unprinted side is even softer! It's a furry kind of fabric which is so cuddly!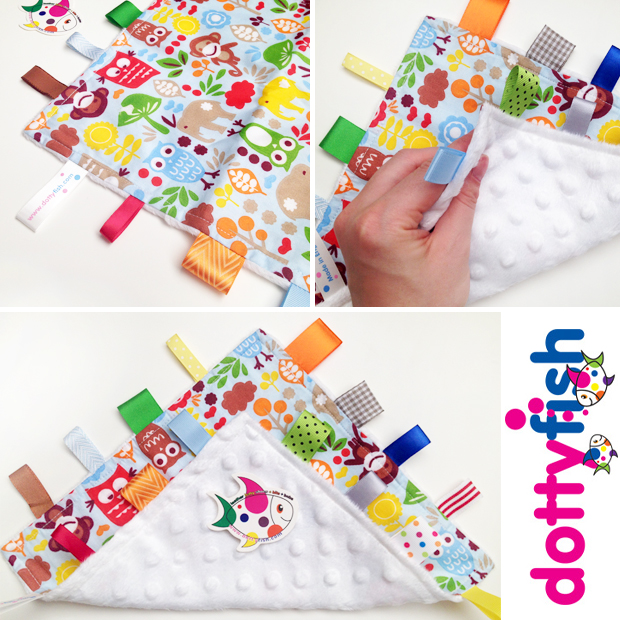 The blankets are handmade in England which is something I really like. My littlest girl is 4 months old and loves her Dotty Fish Tag Blanket. She plays with the tags and chews everything on the blanket! She seems to find the pattern interestesting too and often spends ages looking at the print.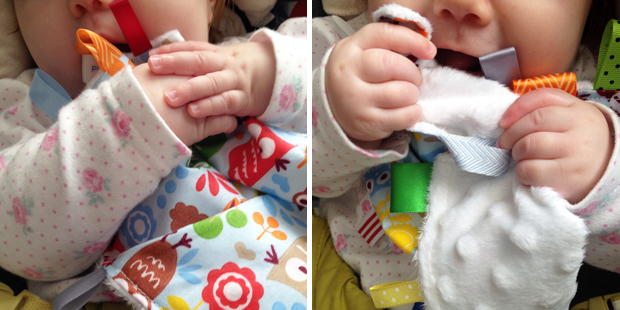 The blanket can be machine washed and should be too, to get rid of germs as it constantly gets chewed. It washes really well and dries quickly too which is brilliant. I also love that it is so portable — you can just fold it up and put it in your pocket!
We love our tag blanket! It's really cute and would make a great new baby gift for a boy or a girl.
Dotty Fish Tag Blankets are available to buy for just £6.99 from the Dotty Fish website. There are quite a few designs to choose from and don't miss Dotty Fish's adorable leather shoes for babies and toddlers while you're there.
We were sent this item for this review. As always, all my reviews are 100% honest and all thoughts and opinions are my own.