Little Box of Books Review – A Book Subscription Box for Children
|
Little Box of Books Review – A Book Subscription Box for Children
My children and I are all big book worms and love finding new books to enjoy. Little Box of Books is a book subscription box for children. The book boxes have been put together to teach children how to be kind and compassionate with a carefully selected collection of books that are not only beautifully written and illustrated stories but that also reflect the diversity of our population.
The chosen books show diversity in race, culture, family set up, relationships and representations of disabilities and gender roles. The books and stories are not about diversity, but the diversity is incidental to the story line.
We were sent a box for 4-7-year-olds but there's also an option for 0-3-year-olds and 8-11-year-olds. You can also personalise your subscription by choosing how many books you would like included in each box (2, 3 or 4) and how often you'd like a box (every month, every 3rd month, or every 6 months).
The boxes also include healthy and delicious snacks, free gifts and puzzles and activities which is of course fun. Plus, for every subscription sold, Doorstep Library gets a book from Little Box of Books.
Let's have a look at the lovely box that we received:
Books first, of course! We received four wonderful books that we enjoy reading together: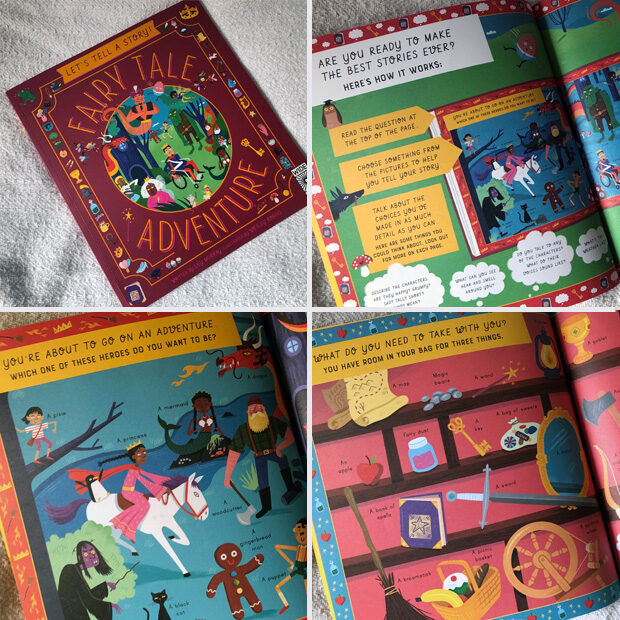 Let's Tell a Story! Fairy Tale Adventure by Lily Murray, illustrated by Wesley Robins
This is such a fun, interactive book that let's you build your own fairy tale, over and over again with new ideas each time. You choose who you want to be and the all the other aspects of the story by reading the question on each spread and choosing from the vibrant pictures to create millions of possible combinations and endless stories. My two older girls (5 and 7 years old) absolutely love this book and laugh so much when we do this activity together.
Number 7 Evergreen Street by Julia Patton
This story is about a girl called Pea who lives in a flat at Number 7 Evergreen Street which is a very grey area but inside, there's an amazing community of colourful and helpful neighbours. One day, a bunch of construction workers show up and it looks like Number 7 Evergreen Street is going to be demolished! Pea must think quickly to save her home for her family and her wonderful neighbours. She does, and creates a stunning and beautifully green area for them to enjoy too!
What Happened to You? by James Catchpole, illustrated by Karen George
This is a ground-breaking book – the first ever picture book about how a disabled child might want to be spoken too. We meet Joe who only has one leg and every time he goes out to play, he gets the same questions. Does he need to answer? It's a funny book that shows Joe's experience in the playground and how he decides what he wants to share with others. It's a brilliant book!
I'm Actually Really Grown-Up Now by Maisie Paradise Shearring
Another funny book that captures a feeling that all children experience – the feeling of wanting to be grown up! We meet Meena who announces to her parents that she's actually really grown-up now after having been sent to bed when the grown-ups were having a party. She plans her own party and tries to act like a grown up but soon finds out that it's not as easy and as much fun as she had imagined.
With these four books, we also got a net of beautiful marbles which the kids were very excited about and a yummy snack – a bag of Love, Corn Premium Crunchy Corn in Cheese & Onion flavour. We also got a discount voucher for this brand.
We also got an activity pack to look a bit more closely at the stories and the messages from the books and a double-sided reading record chart with star stickers.
Thank you to Little Box of Books for introducing us to these amazing books! Get started with your own subscription for your kids here.
This box was kindly provided to us for review. As always, all my reviews are 100% honest and all thoughts and opinions are my own.