MAM Feel Good Glass Bottle Review
|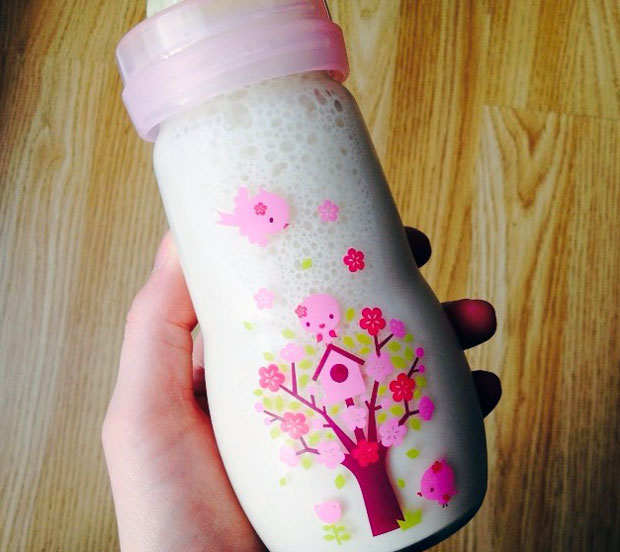 MAM Feel Good Glass Bottle Review
We've recently swapped some of our plastic bottles for glass ones. I've written a thorough post about the pros and cons of using glass baby bottles that you can see here.
This gorgeous premium glass bottle from MAM is one of our new glass bottles and it is made of temperature resistant glass which means it can safely be warmed in the microwave, sterilised at high temperatures and cleaned in the dishwasher. It also means it cools down quite quickly.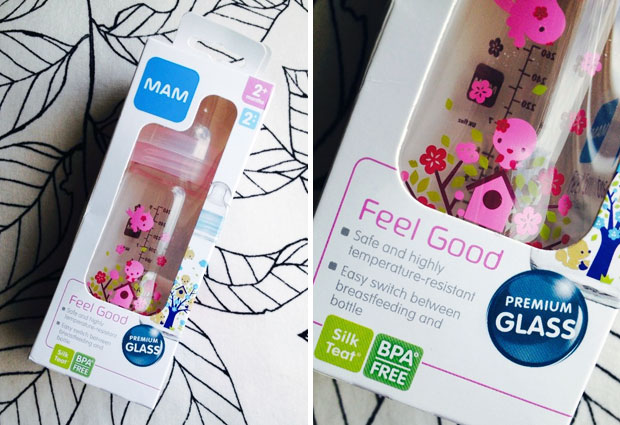 It's got the same ergonomic shape as the plastic bottles by MAM and is very easy to hold. The opening is wide, making the bottle easy to clean and easy to fill. All the other parts are the same as the plastic bottles which means the parts are interchangeable. Those parts are the spill-proof dust cap which also works as a measuring cup, the patented silk teat which is symmetric and fits perfectly into your baby's mouth and the teat ring.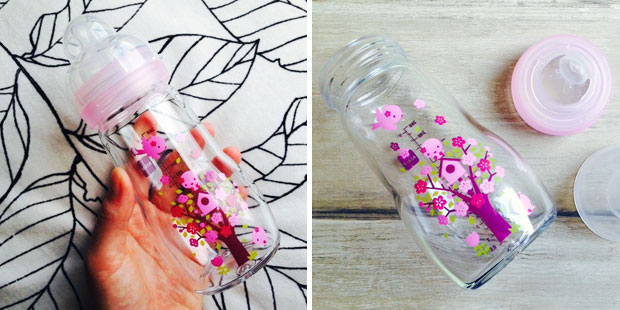 It's such a pretty bottle! The glass is really thick and sturdy which makes it feel very safe. My daughter has dropped it a few times on our quite thin carpet and it's not broken from that. Glass is naturally BPA free and all plastic parts of this bottle are BPA free too.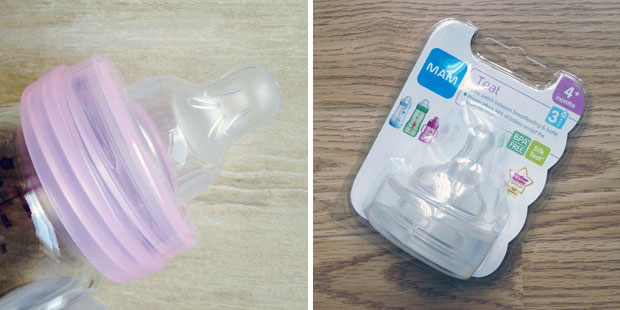 This bottle comes with a size 2 teat which is recommended from 2 months onwards. I bought some new MAM Fast Flow Non Spill teats which are my absolute favourite teats because they are 100% non spill. I've reviewed them separately here. They are suitable from 4 months onwards and give the perfect flow for my toddler, whether she's having milk or a smoothie.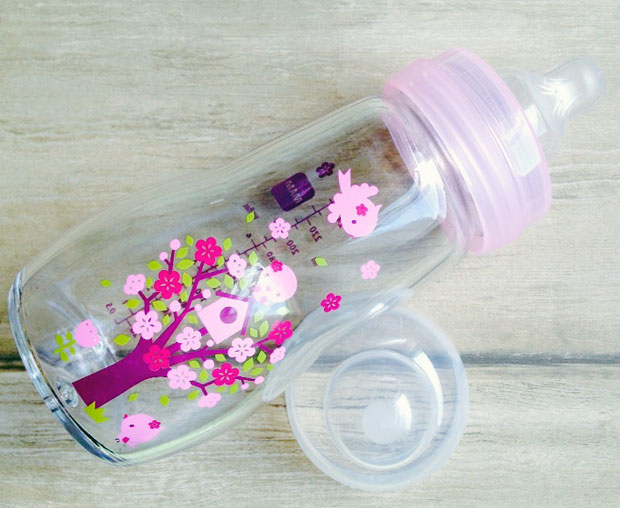 I can't get over how cute this bottle is! The design and the colours are great but the high quality glass makes it look really special too. The bottle is also available in blue and white and also comes in a smaller size, 170ml, that comes with a newborn teat.
The bottle is really easy to clean and unlike plastic bottles, it does not stain and because glass is so durable, it will last us a very long time.
Glass bottles are much heavier than plastic ones, especially these large ones. It took our daughter a few tries before she got used to the change in weight but the familiar shape and teat of MAM bottles meant she accepted it very quickly. She can even drink from this bottle holding it one-handed now.

I highly recommend MAM as a baby brand in general and now their amazingly beautiful high quality glass bottles. You can buy them from the MAM Online Shop, Amazon.co.uk or other great shops that sell baby feeding items.
We were sent this bottle for this review. I bought the teats separately. As always, all my reviews are 100% honest and all thoughts and opinions are my own.