MAM Week – Day 3: MAM Feeding Spoons and Keep Clean Cover Review
|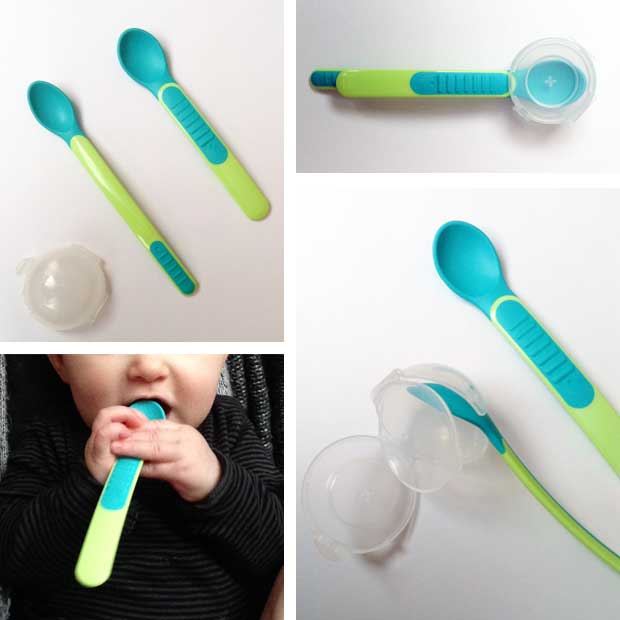 Welcome to day 3 of MAM Week here at A Mum Reviews. Today we have our MAM Feeding Spoons and Keep Clean Cover Review!
The MAM Feeding Spoons and Keep Clean Cover is a set of two travel spoons and a cover to keep them clean (or your bag clean after the spoons have been used) when you are out and about.
The two spoons are not the same. One is longer which makes it great for reaching to the bottom of baby food jars and also enables you to hold the spoon with your baby. My baby always wants to grab spoons from me so I really like this idea! The second spoon is shorter and broader and meant for your baby's small hands — ideal for practising eye-hand co-ordination and eating with cutlery.
The scoops of the spoons are soft and smooth to be gentle on your baby's gums. The non-slip rubber grip is in different places on the different spoons: at the end on the long one for adults' hands and in the middle on the short one for small baby hands.
Having a case for your spoons is great for hygiene reasons, of course. The special thing about this case is that the spoons share a case but are still separated, which keeps them apart when one's dirty and also saves space.
I'm very happy with these spoons! My baby happily accepts food off them and loves to have her own spoon to hold and can be more involved in her eating. It's very practical to have two spoons with you, in case one gets dropped (that happens a lot!) and you have nowhere to wash it.
The spoons are suitable from 6 months and onwards and are available to buy for £5.99 from Amazon.co.uk or from the MAM online shop where they are currently half price and only cost £2.99. They are also available in Blue and in Pink.
We were sent these spoons in exchange for this review. As always, my reviews are 100% honest and all opinions and thoughts are my own.