Mirabilia Organic Olive Leaf Tea Review
|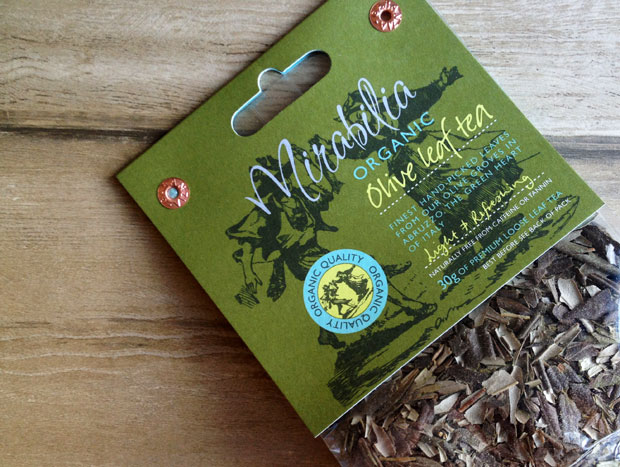 Mirabilia Organic Olive Leaf Tea Review
Until recently, I'd never heard of olive leaf tea and I'm a big tea drinker and have been since I was very young. I've always loved browsing tea shops for new flavours of loose leaf teas to enjoy with family and friends. I love all kinds of tea — black, red, green, white… Now I've tried an Italian olive leaf tea from Mirabilia too which is very unique and special.
It's a mellow and soft flavoured tea packed with health benefits. It contains loads of antioxidants and this organic green olive variety is quickly dried to maintain its health benefits. It contains more antioxidants and vitamin C than green tea which is often known as one of the very healthiest teas in the world. Unlike black, green and white tea, olive leaf tea is naturally caffeine free which makes it suitable for the whole family, any time of the day and for people who might wish to limit their caffeine intake, like pregnant or breastfeeding women.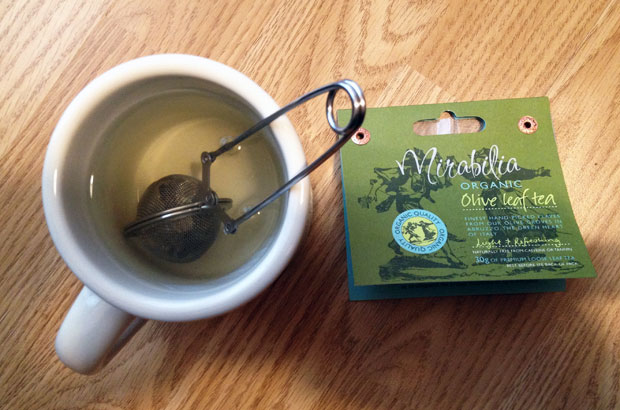 It's a 100% natural and healthy product that can be brewed to your own taste. If you only brew it for a few minutes, you get a delicate drink and if you leave it a bit longer it gets stronger and more powerful. You can add lemon or honey to your tea and even drink it over ice in the summer. You can also use the leaves in cooking by adding them to marinades or spice rubs.
Olive leaf tea makes a soothing and relaxing infusion — olive leaves are historically known as a symbol of peace so this is very suitable. Olive leaves have been known for their health benefits for a very long time and have in the past been used to treat severe fevers and malaria. In Britain, olive leaf tea was used to aid the sick returning from tropical colonies and now, many years later, scientists believe that it's the oleuropein substance in the leaves that has the curing effect. Oleuropein is a substance that protects the olive tree from bacteria and insect pests but it has been found to help protect humans too, by lowering blood pressure and increasing blood flow. Another active substance from the olive leaf tree is called elenolic acid and it's been shown to be very effective at inhibiting viruses from growing, including those that we associate with regular human colds.
It's a very good tea choice for boosting your health this autumn and winter! Plus it's tasty and refreshing too. To me, it tastes like a lighter and milder version of green tea. Olive leaf tea is also free from tannin and doesn't stain cups or your teeth which is a nice bonus.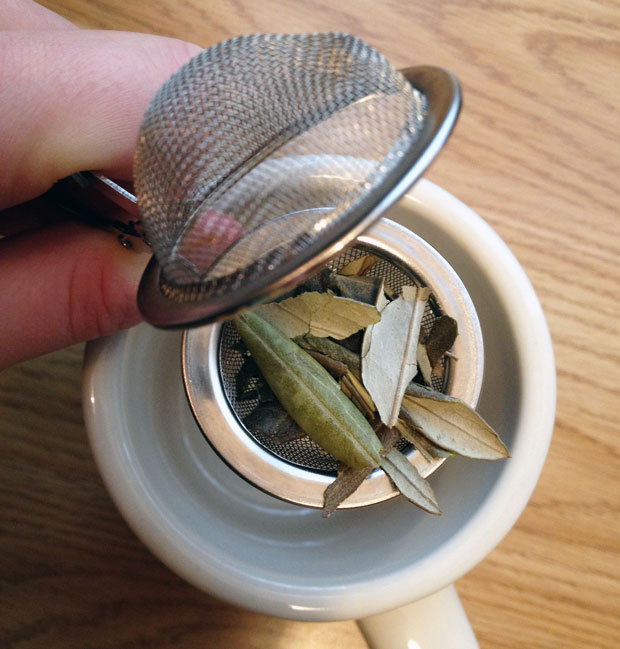 It's really easy to make a cup of olive leaf tea — you just do what you normally do with loose leaf tea which is add a pinch of leaves (they're larger than regular loose leaf tea) to an infuser or tea pot and add recently boiled water. You can brew it for as long as you wish but Mirabilia recommend about 5 minutes for maximum enjoyment.
Mirabilia teas cost from £4.69 for a 30g bag — a little goes a very long way — and is also available with Mint, Lemon & Wild Mint and Pomegranate. Read more and buy here.
I was sent this tea for this review. As always, all my reviews are 100% honest and all thoughts and opinions are my own.