My Travel Essentials – Organised, Light & Minimalist Packing
|
My Travel Essentials – Organised, Light & Minimalist Packing
It's been a while since I travelled due to the pandemic but finally we're at a stage where we can start considering trips again. Whether travelling abroad or going on holidays here in the UK, it's really important to me that my travel essentials for the family are packed in an organised way.
Like many people, I quite enjoy the preparation process before a trip when I plan what to pack and how. I aim for minimalist luggage to keep things simple for my family and to make it easier when travelling – a small carry on suitcase per person or less is much easier to deal with than lots of big bags to drag around and keep track of…
In this article, I've gathered some of my favourite travel accessories and products.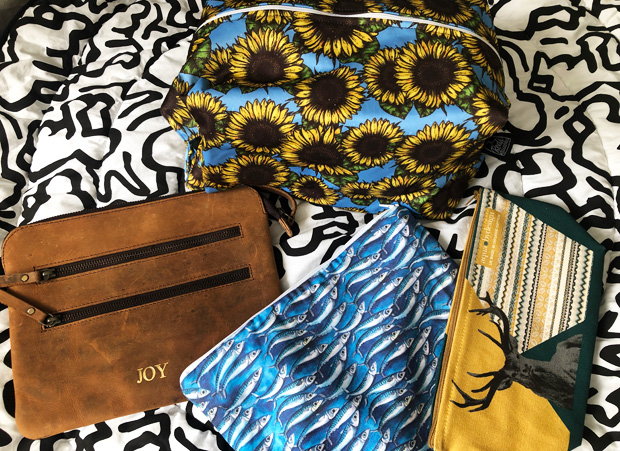 Packing & Organisation
My favourite way to stay organised when packing is to have lots of different pouches to use to separate items so that everything has a home in the luggage and is easy to locate quickly.
For bigger things like clothes, I do have some packing cubes that I bought for a trip but I much prefer using nappy pods which are designed for cloth nappies but can be used for lots of things. They are available from lots of different brands. I have some Mega Pods from Buttons which are nice but my favourite pods are Large Pods by Little LoveBum and Boxy Wetbags by Reds Reusables as they are larger and a nicer PUL The gorgeous sunflower one that you can see in the photo above is from Reds Reusables (buy Sunny Days Boxy Wetbag here) and this one features an extra, long carry handle too which is so handy.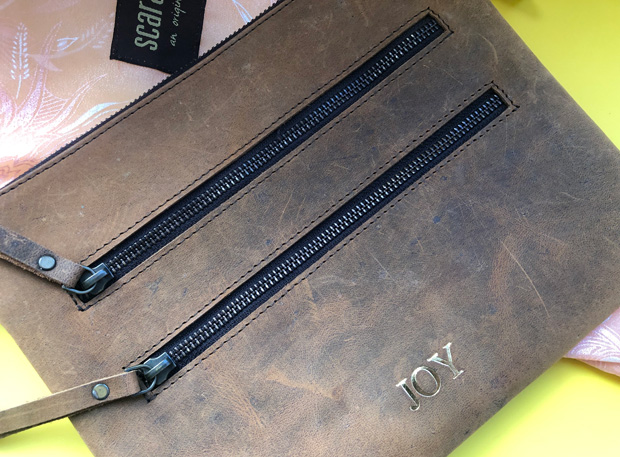 For travel documents like your passport, ticket printouts and any other important paperwork, this stunning Leather Tablet And Travel Pouch from Scaramanga is ideal. Everything from Scaramanga is amazing quality and I love that many of their products can be personalised too. I chose the word JOY on my travel pouch to inspire happy travel memories.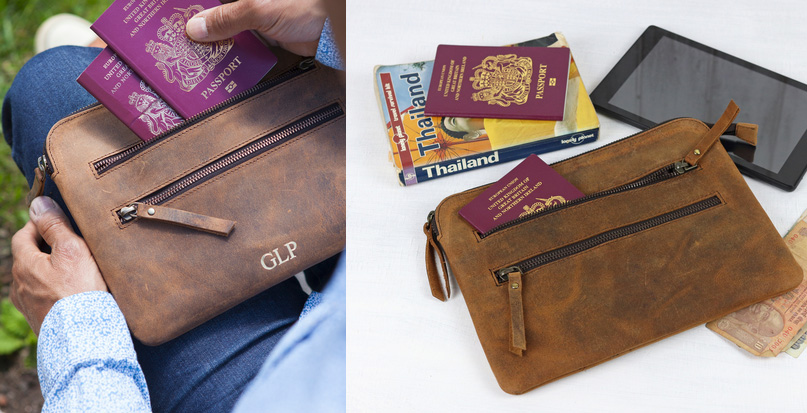 The pouch has two front pockets and a single main compartments that is big enough for most 10-inch tablets or folded over A4 documents. It's such a handy pouch for keeping documents and tech organised and protected when travelling. It would make a great gift for anyone who loves to travel too!
You might have spotted the Thailand travel guide book in the photo above. If you're travelling to Krabi in Thailand, be sure to check out these resources: https://www.thailandnomads.com/krabi/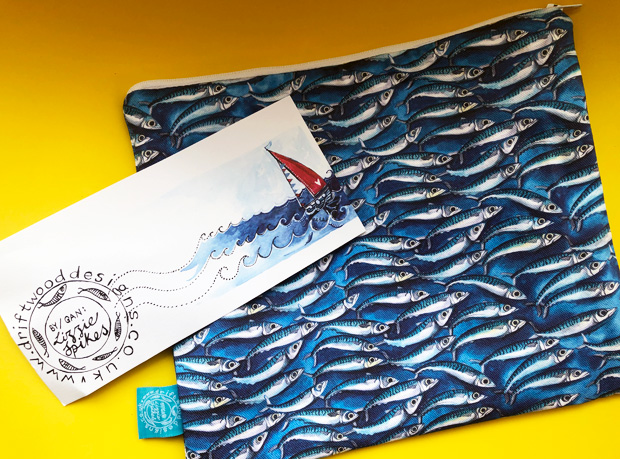 The next pouch I'm using is the Driftwood Designs Fishes Wash / Travel Bag. This is a 100% Cotton make-up bag with a waterproof lining and is great size at 295mm x 240mm. It features a beautiful and summery mackerel design with vibrant colours by artist and designer Lizzie Spikes. Because it's waterproof and large, it's great for packing swimwear (that might still be damp when travelling home) or larger toiletries.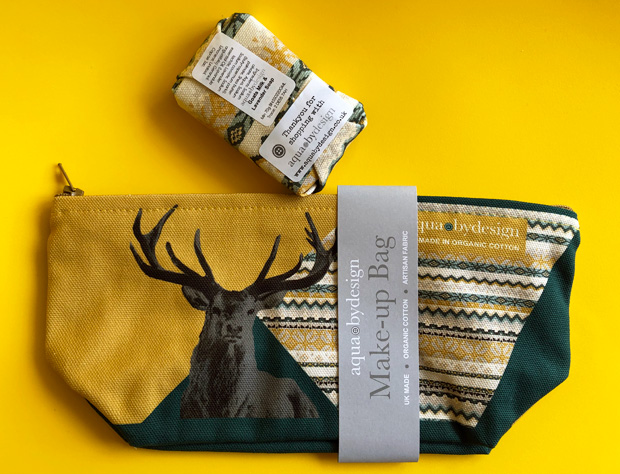 For make-up and small toiletries that I might need to access while travelling, this beautiful Aqua By Design Highland Loch Teal Make-Up Bag (other designs are available too) is ideal. The stag design is printed onto organic cotton and has a waterproof lining which is always handy. It's a very versatile bag that can be used to store lots of different things (technology parts, medicine, snacks, swimming costume, stationary, face masks and more). Currently, all make-up bags from Aqua By Design come with a free handmade soap worth £6.50 too.
Since I like to travel quite minimally and don't take loads of different outfits, it's nice to have a small selection of jewellery and other accessories available instead to complement my capsule wardrobe. Jewellery can be quite annoying to pack as things tend to get tangled but that will not be a problem for me anymore with this handy Personalised Jewellery Box from Trendyz.
Choose from a round, square or rectangular design in different colours for the box and the personalisation too. The cute, hand-stitched custom jewellery box will keep chains tangle-free and other pieces neatly organised while you travel the world. Would make a lovely gift too!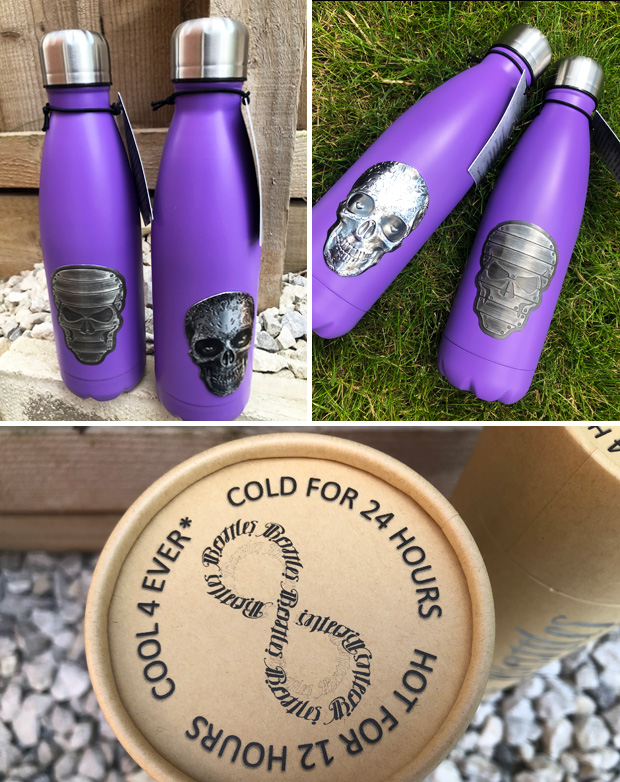 Health & Wellness
Staying hydrated is always important but maybe even more so when travelling. We love to use insulated reusable water bottles to keep our water cold and there are usually places available where you can refill your bottles in airports or you can ask for a tap water refill in coffee shops.
IntegrityBottles has a wide range of insulated steel bottles in different colours with interesting and unique designs to decorate the bottles. Above you can see two of the different skull designs that are available. There are also bottles with the following themes: Zodiac, Cross, Yin & Yang, Biohazard and Heart.
The bottles from IntegrityBottles keep drinks cold for up to 24 hours and hot for 12 hours. They are really sturdy bottles that are built for durability and come with a lifetime guarantee. They are condensation free and can hold 500ml.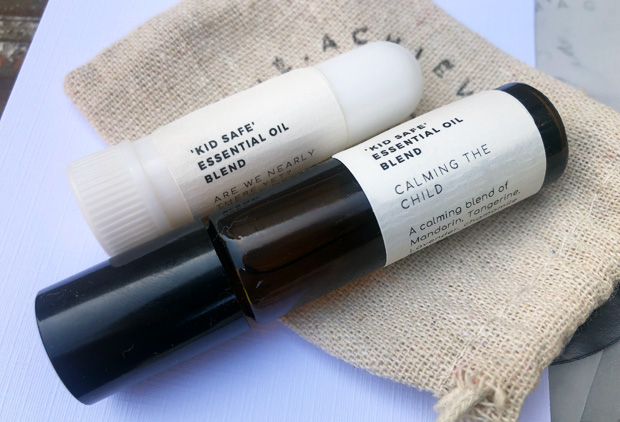 Many people are nervous or anxious travellers and I personally get worse every year too. Products that help you stay calm and relaxed when travelling and at your destination are a good idea if this is how you feel too. Love-ria.co.uk has a wonderful range of candles and aromatherapy products, like the rollerball and inhaler above with a blend that Ria has custom-made for me and my travels.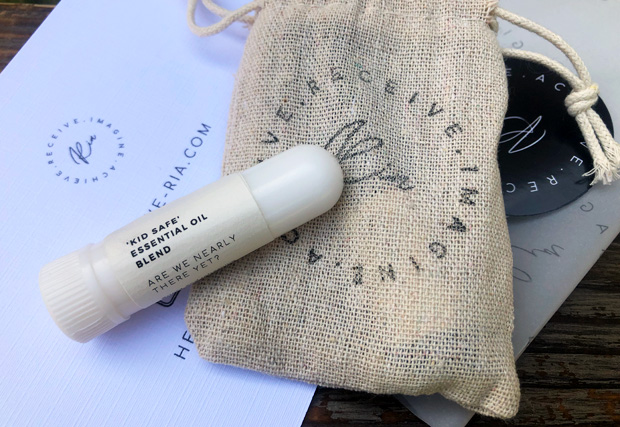 It's a kid safe essential oil blend with calming properties. It's a blend of mandarin, tangerine, lavender and chamomile roman to promote a calming atmosphere wherever you are. Great for travelling or general parenting challenges!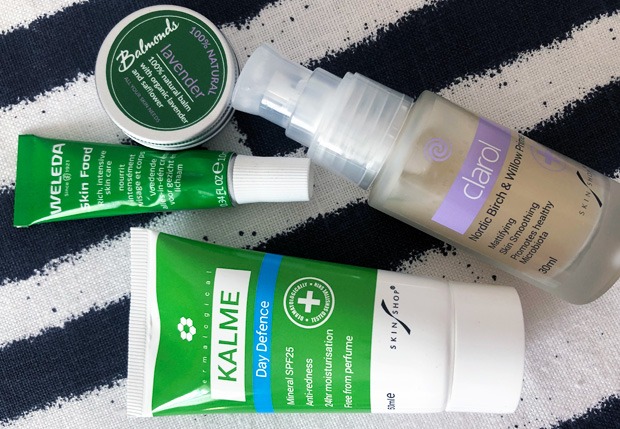 Skincare & Beauty
When it comes to toiletries, skincare and beauty products, I like to keep it minimal when travelling. Beauty Kubes Unisex Shampoo & Bodywash (travel / sample packs available here), SPF and moisturiser in sizes that are convenient for travelling, dental care products and deodorant are pretty much the things I need.
I love to take my small tin of Balmonds lavender balm and a mini tube of Weleda Skin Food as multi-purpose creams for the kids and I.
For SPF, KALME SPF25 Day Defence is a great daily moisturiser that protects skin and also reduces redness and sensitivity and also helps reduce breakouts. A cream that does a lot which is very convenient when travelling. This is what I use in the morning before heading out for the day.
When the weather is warm like it is now, I like to use something light on my skin at night and am currently enjoying using this Clarol Nordic Birch & Willow Primer. Though it's a primer, it is also moisturising and works well for me like this too. It's a bioactive mattifying primer that uses two Nordic tree bark extracts to combat oiliness, promote healthy skin microbiota and make acne-prone skin smoother and mattified. This Nordic inspired product is a great fit for my Swedish complexion and leaves my skin feeling smooth and healthy. It's free from chemicals, SLS, MI, petroleum and perfumes which is important too.
Those are my favourite travel essentials! Have you discovered anything new here? What are your travel essentials? Please share in the comments below.
Some of the products featured were kindly gifted to me. Everything featured has been chosen by myself to be included and all thoughts and opinions are my own. Contains a sponsored link.