New Bug's Life Bambino Mio Prints Available in Aldi Now!
|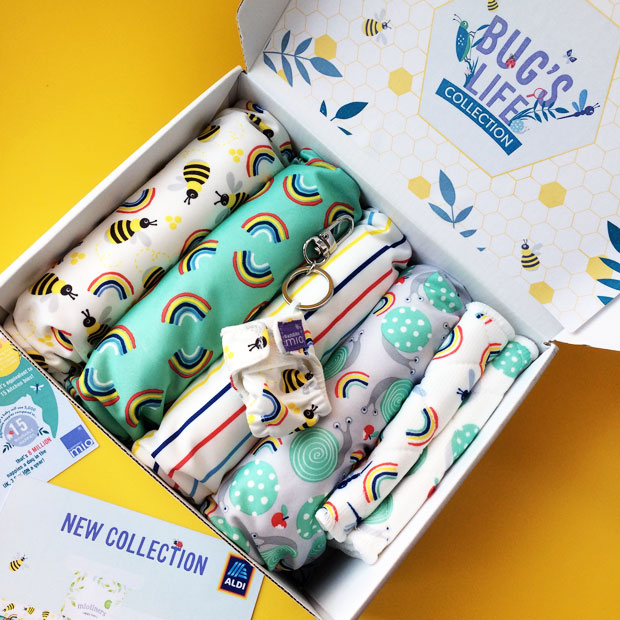 New Bug's Life Bambino Mio Prints Available in Aldi Now! – #ClothNappyMonday

It's an exciting day today as the New Bug's Life Bambino Mio Prints have been released! The new Bug's Life collection is now available to buy in an Aldi UK or Ireland store near you! And they are gorgeous…
As you might know, I've been using Bambino Mio nappies and products for years now and am a big fan. Something that I especially love about Bambino Mio (other than their stunning print designs!) is that they have taken cloth nappies to the supermarkets. They're one of few cloth nappy brands that you can pick up when doing your food shop and I think it's brilliant that you can find Bambino Mio cloth nappies in several supermarkets all year round. This way, more people will see cloth nappies and this will help make them mainstream.
Bambino Mio sometimes collaborate with Aldi and Aldi's Baby & Toddler Events and when they do they offer their Miosolo All-In-One nappies for just £8.99 in Aldi which is amazing value! The RRP is usually £15.99 so that's nearly half price!
The new collection includes four beautiful prints:
snail surprise
honeybee hive
rainbow rays
sunshine stripes
Which of the New Bug's Life Bambino Mio Prints is your favourite? I love them all! I love all the rainbows, the cute bugs and also the stylish simple stripes! If I had to choose, I think I'd go for sunshine stripes and honeybee hive.
I'm also excited about the new boosters that are now available in fun designs too! I need to add them all to my stash I think.
Don't worry if you don't get your hands on these nappies this week. If you can't find any in Aldi or if you don't have one near you, the New Bug's Life Bambino Mio Prints will be available from other retailers like The Nappy Gurus too.
Bambino Mio Reviews:

The pictured nappies and accessories were gifted to me.