Persil Small & Mighty Limited Edition For Red Nose Day
|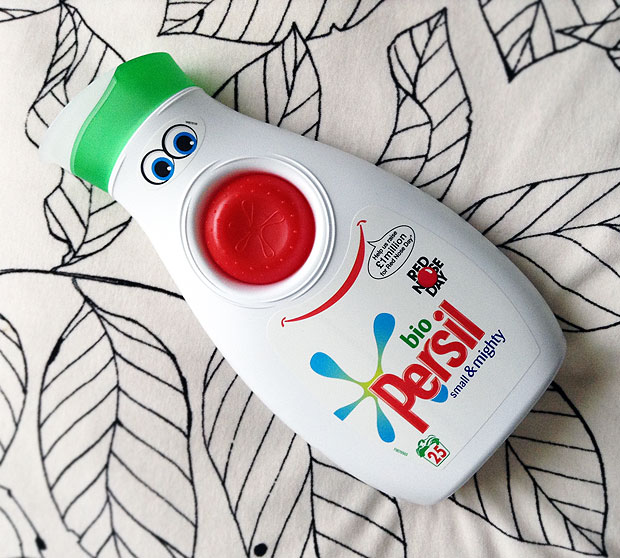 Persil Small & Mighty Limited Edition For Red Nose Day
This year Red Nose Day is all about making your face look funny for charity. Persil and PG Tips are working together to donate £1 million to Red Nose Day and are doing so by selling special edition promotional packs. Persil will donate 8p per sold limited edition promotional bottle to reach the goal of £1 million to transform people's lives in the UK and across Africa.
Other than buying the special edition bottle, you can help raise awareness and inspire donations by taking part in gunging. Gunge is something that you can make yourself by following the easy recipe below, then you need someone to pour it over your head and someone to capture this funny moment! It's a bit like the ice bucket challenge but not so cold and more fun!
Gunge Recipe
Ingredients:
350ml of water
3 to 4 drops of paint powder (kids powder paint is best for this, and can be bought cheaply on Amazon)
140g corn flour (available from all good supermarkets)
Method:
1. Add 350ml of tap water to a small saucepan and heat until the water is warm but not boiling. You don't want to use boiling water as you'll have to wait for it to cool before you can mix the gunge – and we know you'll want to get gunging straightaway!
2. Pour 250ml of the warm water into a bowl (leaving 100ml to one side). Add three to four drops of the powder paint until the water is about a shade darker than you want the gunge to be (when you make the gunge, the colour will become diluted slightly). Mix the water and paint well with a spoon, until fully mixed.
3. Measure 140g of corn flour and place it into a separate large-sized bowl.
4. Pour the coloured water slowly into the bowl with the corn flour and then mix the ingredients together with your hands to form a thick paste, and voilà – you're ready to start gunging for Comic Relief!
Top tips for a good gunging:
1. Once the gunge is made let it cool for 20-30 minutes (for an extra cold surprise, why not put it in the fridge for a bit?)
2. Be sure to wear goggles during the gunging, and keep your mouth closed – it'll make your face even funnier!
3. Remember to have a camera nearby. There are sure to be many funny faces pulled when the gunging starts and we want to see them!
4. Once you have prepared the gunge once, why not make a second batch using different colours, adding some glitter or doubling the ingredients for double the fun
If you get gunged (or gunge someone else!) for Red Nose Day, don't forget to upload your photo to Facebook, Twitter or Instagram using #RNDface. And if you'd like to support the cause even further simply text** PERSIL to 70703. Your £3 could buy a year's supply of textbooks for an orphaned child in Zambia, to help bring them a brighter future.
Your bottle of Persil Small & Mighty will help clean up the mess!
Find out more by visiting rednoseday.com and persil.co.uk.
I was sent a limited edition bottle to go with this post.