Personalised Wooden Gifts from Kent-Made | Room Signs & Cards
|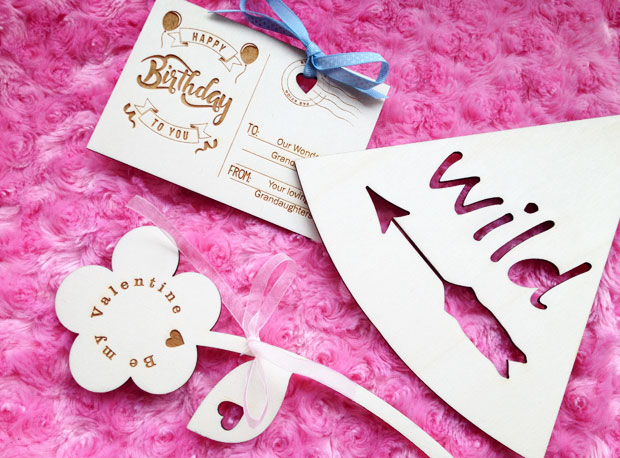 Personalised Wooden Gifts from Kent-Made | Room Signs & Cards
Kent-Made is a company that specialises in personalised wooden gifts at affordable prices for every occasion. The items are stylish and unique and there's a lovely range of products for special occasions and for the home. You'll find things like custom bedroom signs, unique wedding décor ideas, personalised flowers, Christmas decorations, door hangers and even wooden post cards! They are engraved or laser cut with a message and/or personalised with names. The website has a really good search function so that you can easily find suitable items by searching for "Birthday" or "Valentine" etc.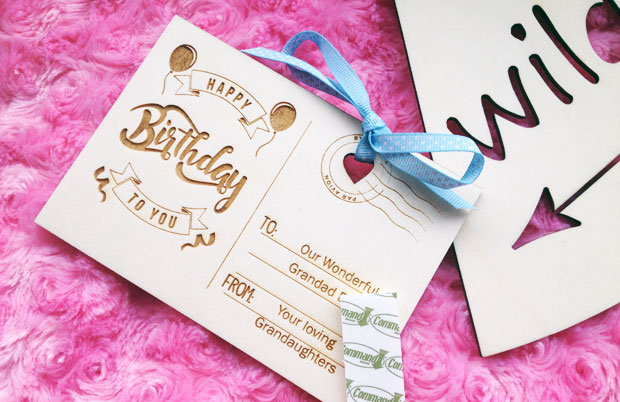 You might have spotted the personalised wooden flower (that you can see in the top photo) in my recent Valentine's Day Gift Guide. It's such a sweet item and it's available for other occasions too. We have two more items from Kent-Made — a Personalised Wooden Happy Birthday Postcard with a balloon theme and a Personalised Teepee Children's Bedroom Sign.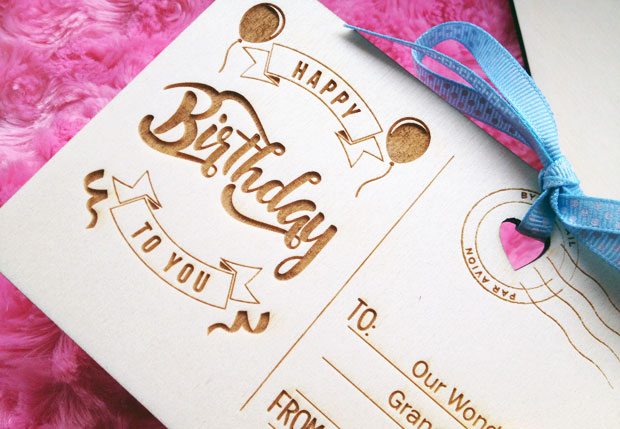 The personalised wooden postcard (£4.99) is absolutely gorgeous and makes a wonderful keepsake. We ordered one for my father-in-law's upcoming birthday and signed it from our daughters to give to their grandad. There are lots of different designs to choose from to suit any occasion.
It's made from 3mm thick plywood with a natural grain which makes the postcards even more unique and beautiful. The dimensions are 125mm x 90mm. You personalise the card with your recipient and sender and those details are laser cut/engraved into the wood. There's also a post stamp heart cutout with a little blue ribbon tied through it which is a lovely detail. I'm sure the girls' grandad will love this beautiful postcard!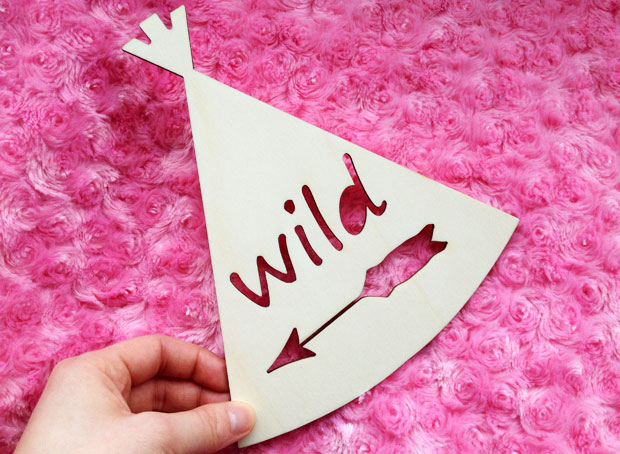 I love the Teepee bedroom sign (£8.99) that I ordered for the girls' playroom that we're planning for our new house when we move. I'm going for a nature theme and chose the word "wild" for the sign as I think that's a perfect fit! The word and an arrow are cutouts and I love this effect.
Again, there are lots of different designs to choose from with different themes and styles and a plaque like this is a great way to add a unique piece of décor to your child's bedroom. They would also make a nice gift. This sign is made from 3mm laser plywood with a natural grain just like the postcard. The dimensions are 210 x 180mm.
With each wall hanging product, you get two small Command Strips included which makes it really easy to hang your signs. They're easy to remove too when needed and you don't need any glue or screws.
Check out the full range of personalised wooden gifts.
Samples provided for this review. As always, all my reviews are 100% honest and all thoughts and opinions are my own.