Review + Giveaway: DoddleBags Reusable Baby Pouches + Crafts Set
|
Review + Giveaway: DoddleBags Reusable Baby Pouches + Crafts Set
DoddleBags are the first reusable baby food pouches that I can across a few years ago. The company makes award-winning 100ml reusable bags — not just for baby food but also for travel and art.
We have a set of DoddleBags pouches to use for homemade purées and smoothies and one of the new DoddleBrush Set For Arts and Crafts which are a lovely idea!
Whatever liquids you wish to take with you, DoddleBags will help you. There are different designs of caps and lids as well as brushes for art and baking.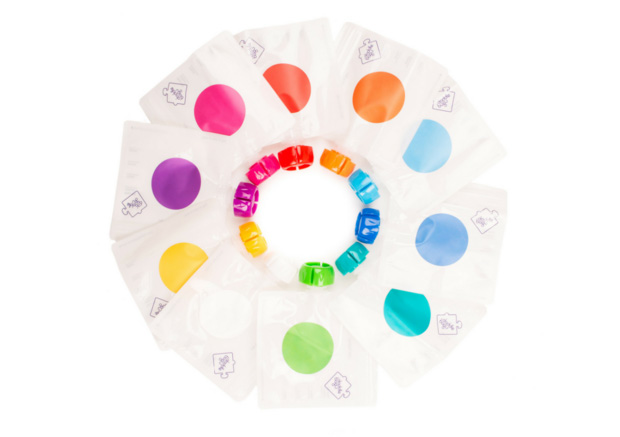 The pouches are BPA-Phthalate-PVC free, reusable and recyclable. They're leak-proof and hygienic and can easily be stored as they can stand up. They're easy to wash either under a running tap or in the dishwasher and can be used over and over again. They are suitable for freezing and ideal to pack in lunchboxes thanks to the compact size.
They're easy to fill up and seal and they're calibrated for easy measuring. It's see through on one side so you can easily see how much is left. You get different coloured caps with you pouches and stickers too that can be used to label your pouches so that you know what's in them.
They're really easy to use for homemade food pouches — my girls love a fruit pouch — and it's much cheaper to make your own at home and loads better for the environment as you keep using the same packaging rather than putting the non-recyclable regular pouches in the bin.
The DoddleBrush set is lots of fun! My girls love painting, and this is a fun way to contain the mess and reduce waste. You simply put as much ready mixed paint as you wish into a DoddleBag, seal and add one of the brushes and you're ready to get creative!
You squeeze the bag a little bit to get some paint on the brush. If you have paint left when you're done, simply add a cap and you can use it again next time. Wash the brushes and then store them in the DoddleCase to keep them safe and clean.
My girls have so much fun painting with their DoddleBrushes! You can use the brush heads without the pouches too if you wish.
Buy your DoddleBags here.
Giveaway: Win a DoddleBags Set of 10 bags and a DoddleBrush Set For Arts and Crafts
For a chance to win a DoddleBags Set of 10 bags and a DoddleBrush Set For Arts and Crafts, enter through my Rafflecopter below. UK Entrants over the age of 18 years only. Terms & Conditions apply. The giveaway will end on the 22nd of June 2018.
Samples provided for this review. As always, all my reviews are 100% honest and all thoughts and opinions are my own.