TOPPBOX Men's Skincare Subscription Box | Dec 2022
|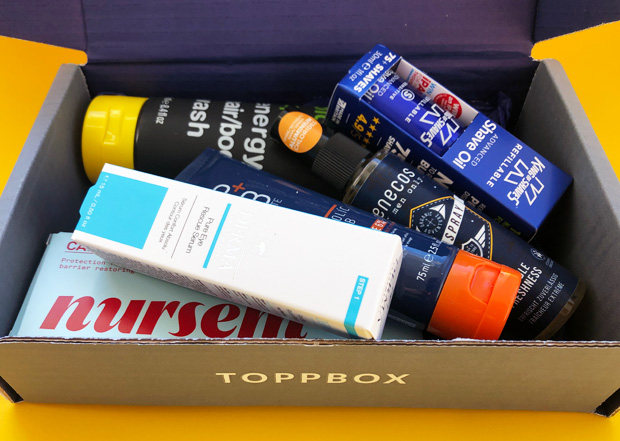 TOPPBOX Men's Skincare Subscription Box | December 2022
January is the best month for a fresh start and new habits. If you'd like to get better at looking after your skin and your appearance, I highly recommend checking out the surprise grooming and skincare subscription boxes provided by TOPPBOX. A subscription would make a brilliant gift for a loved one too!
In this post, we're looking at my most recent box that I received last month. Now I have had some time to test the products and am ready to share my feedback.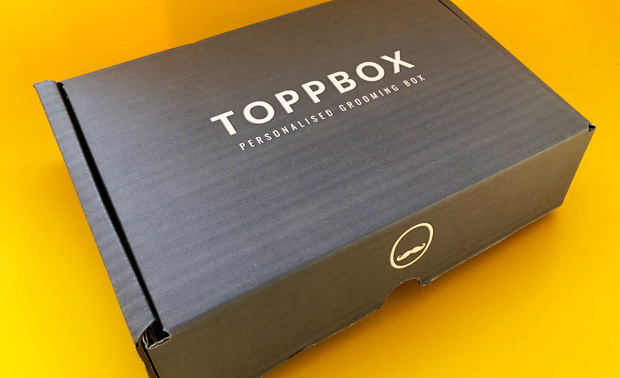 First, a bit more about TOPPBOX and how it works. TOPPBOX is a really fun subscription service for men (with many products that are unisex too) who love trying new skincare and grooming products. You fill out a quick profile about your grooming needs when you start about your hair, beard, age and skin type, then you enjoy a monthly box filled with goodies. I love it!
Each TOPPBOX contains 5-7 full sized products put together for your grooming profile and the total value is always around £50-£70 but you only pay £24 plus shipping £3.25. You can also enjoy 20% off your first box with my TOPPBOX discount code AMR20. There's also a new Refer-a-Friend option that lets you give a friend 30% off their first box and you get 30% off your next one too.
My profile details are:
Age 27-35
Combination Skin
No Facial Hair
Long Hair
Let's have a closer look at the surprise products from this lovely December box!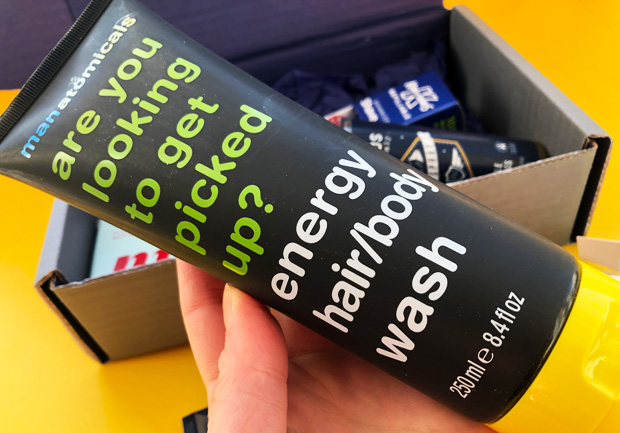 Anatomicals Manatomicals Are You Looking to Get Picked Up? Energy Hair/Body Wash (worth £5.00)
I really love minty and fresh shower gels that give you a boost of energy when you wash with them in the shower so this product is a perfect fit for me. A great smelling body and hair wash full of minty freshness and invigorating menthol. It lathers brilliantly and is sure to make you feel super fresh and ready to face the day.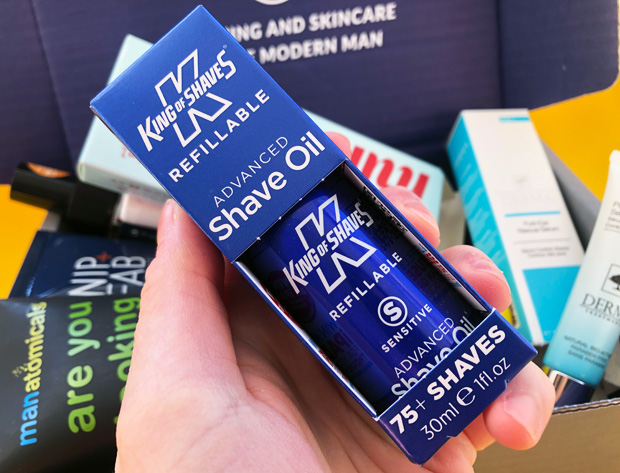 King Of Shaves Advanced Refillable Shave Oil (worth £5.99)
A wonderful no-foam 100% natural shaving oil that protects your skin when you shave but also lets you see exactly what you're doing. Great for both men and women who shave any areas of their bodies. It contains high quality ingredients, including Castor Seed Oil to reduce irritation, Linalool for antiseptic properties and Citronella to protect your skin as well as provide a lovely scent. A huge plus is the refillable lifetime use bottle made from recyclable aluminium. You can buy refill sachets when you need them which is great! A little goes a long way with this product too and this small bottles contains enough shaving oil for more than 75 shaves.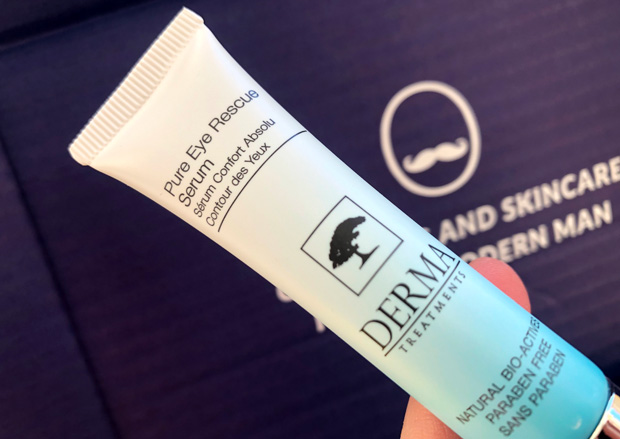 Derma Treatment Pure Eye Rescue Serum (worth £59.90)
A luxurious eye serum that has been created to revive tired and dull eyes. It's a gentle formula with hydrating actives including Allantoin for improved skin texture and Aloe Vera to provide anti-inflammatory properties and soothe the delicate skin around the eye area. This serum feels very refreshing on my skin, especially after a long day working on my computer. You can enhance the revitalising effect by keeping the serum in the fridge.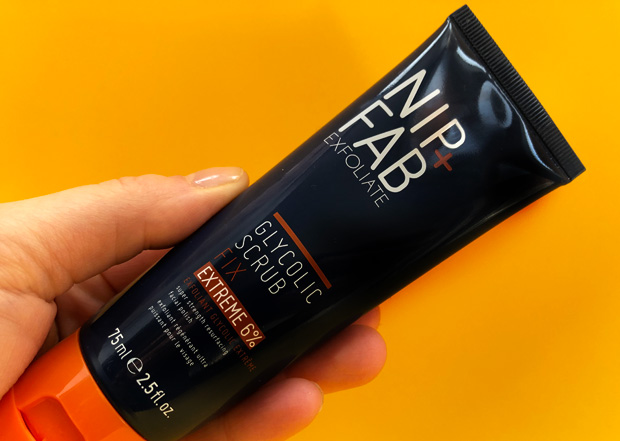 Nip + Fab Glycolic Fix Scrub Extreme (worth £14.95)
Nip + Fab is one of my favourite skincare brands and this scrub is a 3-in-1 micro exfoliant with glycolic acid (6%) and salicylic acid which cleanse, exfoliate and resurface your skin, leaving it feeling fresh, new and super smooth. Glycolic acid is great for brightening your skin, removing dead skin cells and blackheads through a chemical exfoliation and the scrub texture helps with a mechanical exfoliation at the same time. Can be used 2-3 times a week to keep your skin looking great!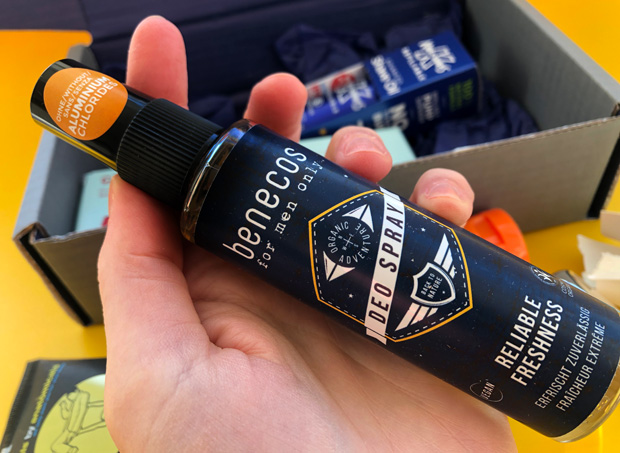 Benecos Men's Natural Deodorant Spray (worth £6.95)
There are lots of benefits of using natural deodorants and this natural deodorant spray for men will keep you fresh while also letting your skin breathe. It contains active extracts of Burdock, St John's Wort, Nettle, Wild Rose, Calendula, Lime Tree and Elderberry to keep skin soothes and for long-lasting freshness. I love the scent and it works well for me. As always with all deodorants, they work best if applied on clean, dry underarms straight after your bath or shower.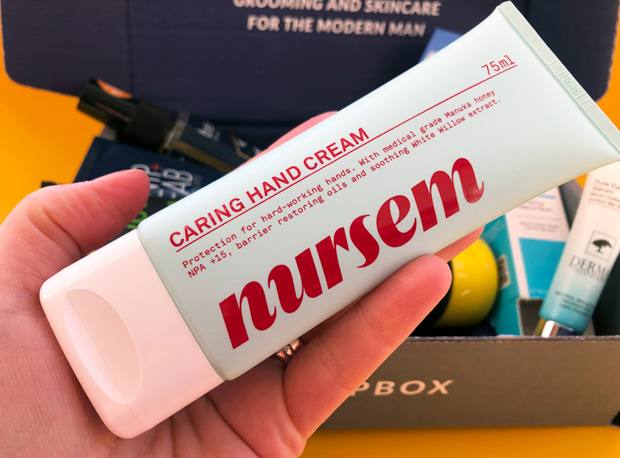 Nursem Caring Hand Cream (worth £9.99)
This is a product that I was very excited to find in this TOPPBOX as I've been wanting to try it for a long time. My hands always need TLC with all the handwashing and cleaning that I do and I have only heard good things about this hand cream from Nursem. It's a fast-absorbing and non-greasy formula with Bergamot, Petitgrain and Grapefruit essential oils that smell amazing and protect your skin. The cream contains Allantoin and Pro Vitamin B5 that ensure that the skin is moisturised well and quickly. It also contains Glycerin which creates a protective barrier to help the skin retain moisture. For every product sold, Nursem donates a month's supply of hand care products to a nurse or a midwife.
A brilliant TOPPBOX Skincare Subscription Box as always! This month, my favourite products were the Manatomicals body wash, the Nip + Fab scrub and the Nursem hand cream but I enjoy using them all.
This skincare subscription box was sent to me for review. As always, all my reviews are 100% honest and all thoughts and opinons are my own.