Vital Baby Products – #ParentingTheVitalWay
|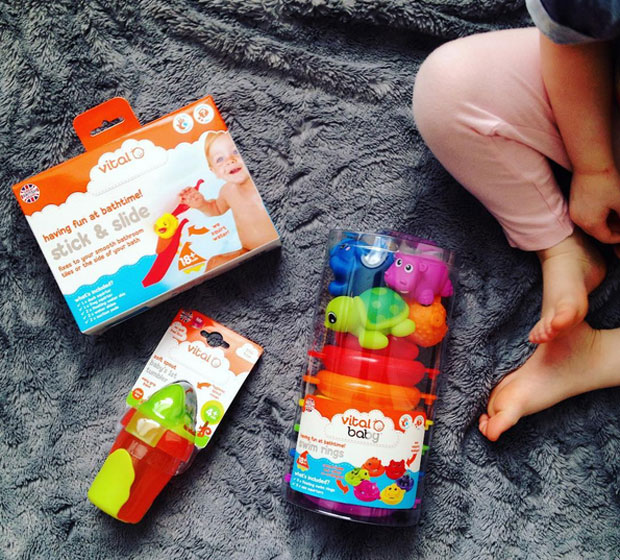 Short Vital Baby Products Reviews – #ParentingTheVitalWay Project Summary

For nearly 12 months now, I've been taking part in a project called #ParentingTheVitalWay. Over the year, I've been sent a lovely selection of baby and toddler products for my little ones and we've really enjoyed testing a bunch of fun and helpful products by Vital Baby. You might have seen the snaps I've shared of the different products over on my Instagram but here is a little summary and a bit more detail about the products.
The products we have tested are: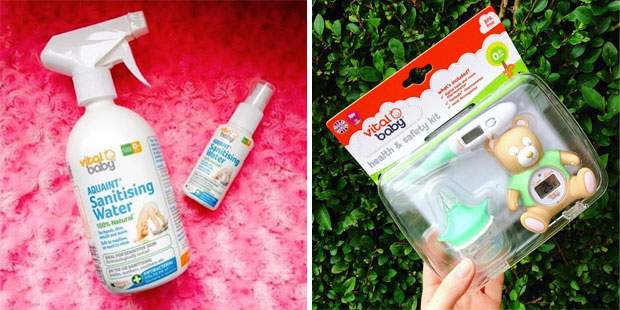 The first thing we tried was the Aquaint Sanitising Water which is a

100% Natural Cleansing water that kills 99.9% of bacteria in seconds

. It's safe for everyone

—

including newborns and anyone with sensitive skin 

—

and is harmless if swallowed. It's gentle, powerful and completely safe. It does not contain any h

armful chemicals, fragrances or preservatives. You can use it for hands, skin, bottles, teethers, toys, soothers, surfaces and more.

The Nurture Health and Safety Kit arrived just as Baby No. 2 got her first cold so the timing was perfect! The set has a

2-in-1 digital bath and room thermometer

shaped like a bear, a

3-in-1 thermometer suitable and a nasal decongester to help clear a baby's blocked nose. The items come in a clear storage case.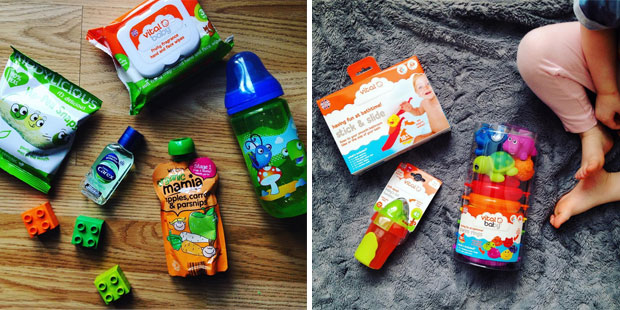 We use hand wipes all the time for my three-year-old when we're out and about and snacking on the go or just need to clean her hands. The Super Soft Fruity Hand and Face Wipes smell amazing and are really gentle on her delicate skin.
We use the Soft Spout Baby's 1st Tumbler for Baby No. 2 and have done since we started weaning at 4.5 months. It's suitable to use as a first cup. It's a small size to be easy for small hands to hold and it's got non-slip grips and a spout cover. The spout is very soft to be gentle on your baby's gums too. We sometimes use it without the vent to make it free-flowing but it's non-spill with the vent.

I don't know about your kids, but my three-year-old is obsessed with slides so she was very happy when the Vital Baby Stick and Slide bath toys arrived! The Vital Baby Swim Rings are a huge hit too and we play with them all the time. We actually use them out of the bath to keep them nice and clean. They are soft, squirty sea creatures in a rainbow of colours (my daughter's favourite!) with matching swim rings. So cute and great for practicing colour sorting. A brilliant toy!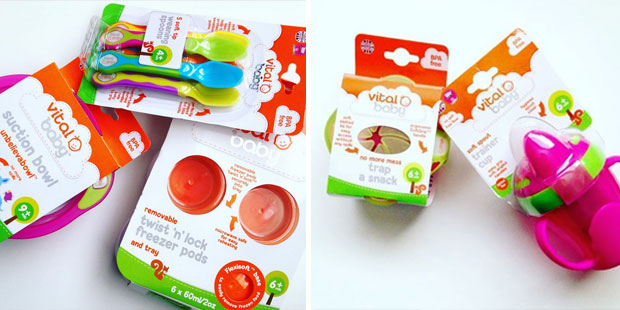 I love the beautiful and bright colours of the Weaning Spoons and they have soft tips

to protect sensitive gums. They wash well in the dishwasher too.

The Twist 'n' Lock Freezer Pods are great for storing homemade baby food and also for serving small portions in. We use these all the time!
The Unbelievabowl sticks to your table or highchair which is brilliant if you have a baby that likes to push your lovingly prepared food onto the floor…
My three-year-old uses the Two Handled Trainer Cup without the vent and she loves it. It's like the Soft Spout Baby's 1st Tumbler but larger and with handles.
The Trap-a-Snack is great for holding small snacks and not spilling them everywhere but is also great for serving baby food in. It has a handle which makes it easy for you to hold as you feed your baby with a spoon.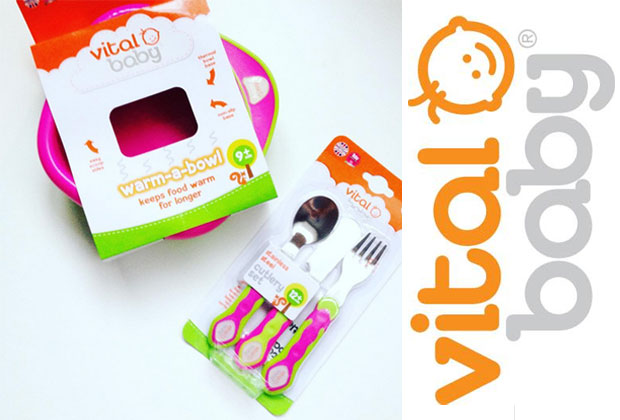 The Warm-a-Bowl can keep your baby's food warm for longer as you fill it with warm water. My children like their food at room temperature so we've not used this hot but I really like the non-slip base, the handle and the rounded corners.
My three-year-old love having her own almost grown up cutlery and the Stainless Steel Cutlery Set from Vital Baby is really nice quality and the knife is rounded and not too sharp (but sharp enough to cut food!).
Our Favourites
There are so many great products here but if I had to choose a few favourites they would be the Swim Rings, the beakers, the cutlery and the freezer pods!
Thank you to Vital Baby for sending us these lovely products.