ALDI Baby & Toddler Event January 2016 Haul & Review
|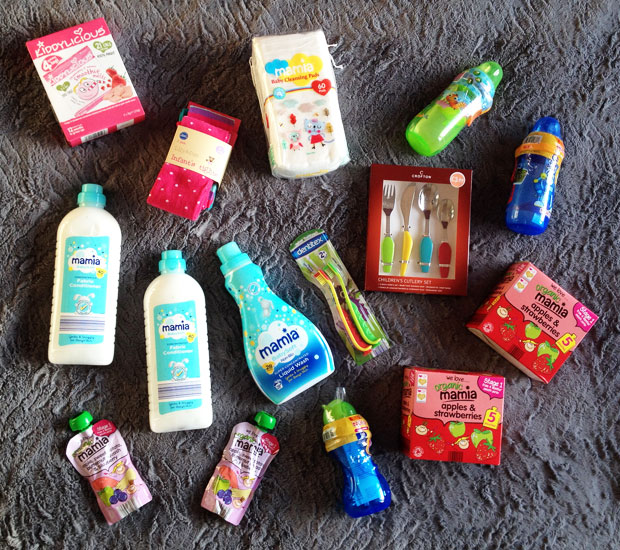 ALDI Baby & Toddler Event January 2016 Haul & Review
Today is the first day of the current ALDI Baby & Toddler Event and I've already been to ALDI to do my shop early this morning. As always for these events, the shop gets filled with lots of great products for babies, toddlers and parents. There are always lots of known brands available as well as our favourite Mamia products. Some things are completely new and other items are favourites that have been available during previous ALDI Baby & Toddler Events.
I always plan my shop before these events and do this by checking out the ALDI website and the magazine that's available the week before. I do this so that I know what's available and what I want to buy. I usually write a list too, so that I don't forget anything.
Everything I wanted to buy was available and I bought everything in the photo above plus a big box of nappies for just under £30.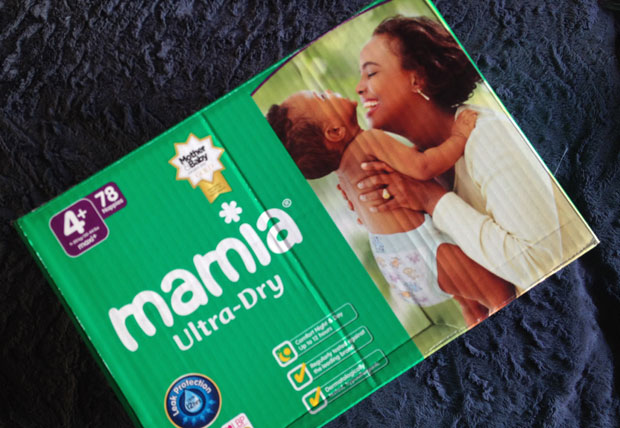 We love ALDI Mamia nappies (See my review here.) and always buy these big boxes if they're available. We currently buy size 5 but there weren't any in my local store today so we got size 4+ which is a size that still fits my daughter.
Let's have a closer look at the items I got today: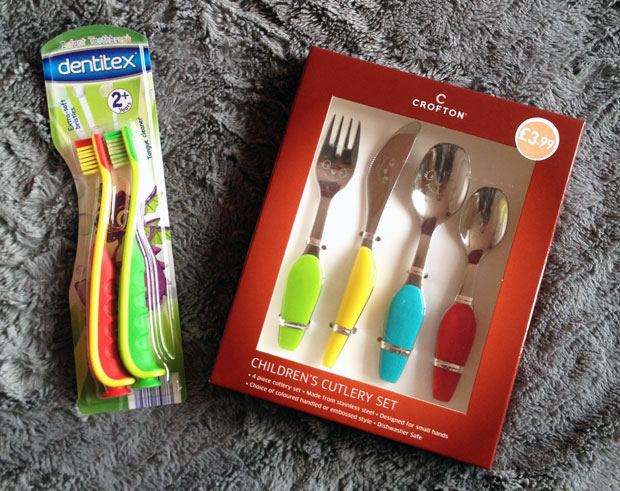 A packet of two children's toothbrushes that only costs £0.79. We are always misplacing my toddler's toothbrushes so I like having plenty at home.
This set of toddler cutlery is gorgeous! I love the bright colours and rounded handles. They have a good weight to them and feel like they're really good quality. My toddler loves them too! The steel bits have little cute faces on them. The set only costs £3.99 and there's a plain stainless steel set available too.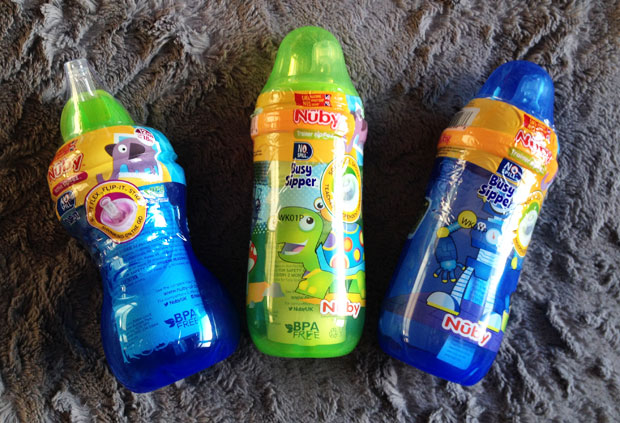 New cups for my toddler daughter was something we really needed. After having a big clear out and getting rid of all the cups that were worn (chewed) we were down to just two cups so I stocked up on three Nûby cups — one Flip It Cup for £1.99 and two Sipper Cups for £1.79 each. I love the fun designs and that they all have a cover for the teat/straw as this is ideal when you're out and about. Very hygienic! There are lots of different designs to choose from and more styles of cups/beakers/bottles available too.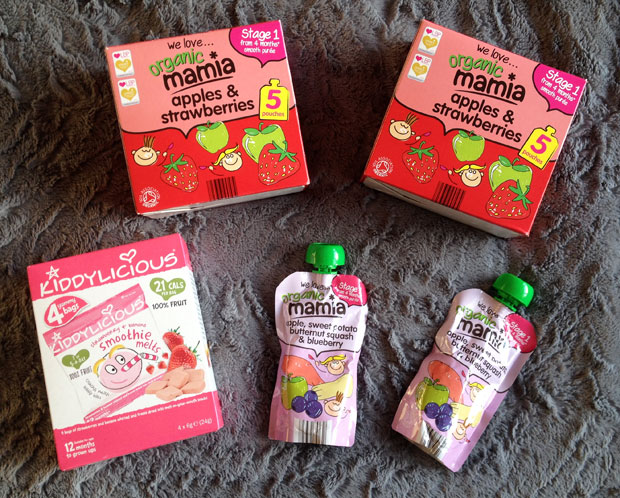 Snacks! We love Mamia organic baby food pouches and got two of the boxed five-packs of Apples & Strawberries smooth fruit blends and a couple of our favourite Apple, Sweet Potato, Butternut Squash & Blueberry pouches. I love that it's vegetables and fruit in one pouch. The boxes cost £1.79 each and the individual pouches are £0.59 each.
The Kiddylicious Smoothie Melts are made from 100% strawberries and bananas. My daughter is a really picky eater so I wasn't sure if she'd like these but she has already devoured three of the four bags in this packet! The box of four bags costs £1.49. I think I'll have to go back for more!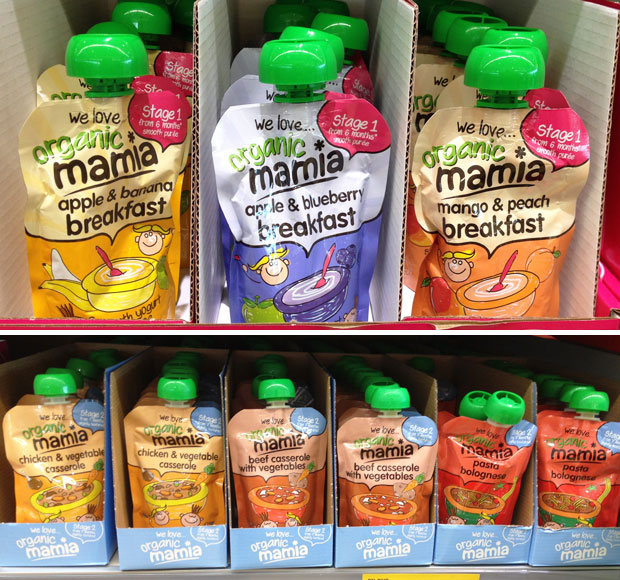 Speaking of baby food, I noticed that there are lots of new organic Mamia baby foods available now that I've not seen before. I'm really happy to see this organic, affordable and tasty range expanding. As well as the new fruit and vegetable pouches, there are also breakfast stage 1 ones and cooked meals for stage 2 available now. We definitely need to try all of these.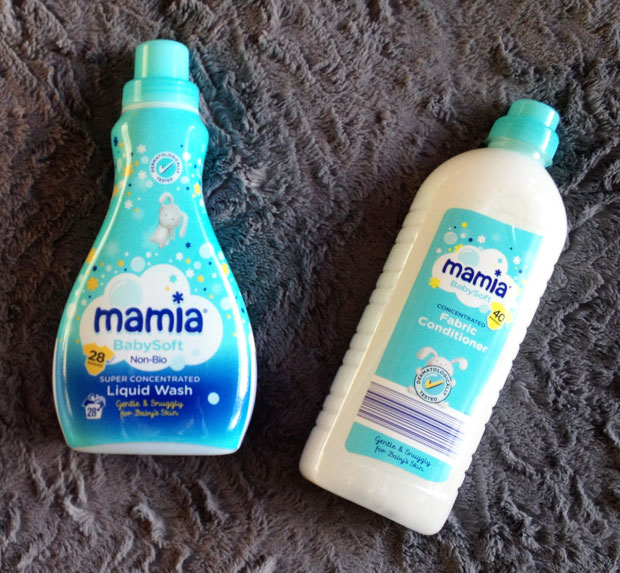 We often use ALDI's washing detergent and fabric softener but these two products are new and we haven't tried them yet. I usually go for the Non-Bio powder but fancied trying the liquid version. We're having another baby in May so I'll have to start washing baby clothes soon so this Baby Soft detergent and fabric conditioner will be perfect for that. I bought two of the fabric conditioner. The detergent costs £1.99 and the fabric conditioner £0.99 each.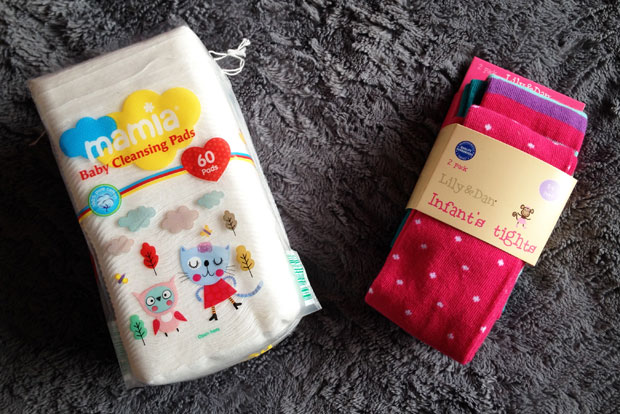 Here's another item for the new baby — 100% pure cotton cleansing pads perfect for nappy changes for newborn babies. A packet of 60 costs £1.29.
There are lots of baby vests, sleepsuits, socks and tights in this baby event and I picked up a packet of tights for my daughter as she wears tights nearly every day. They cost £1.99 for two and I chose a dotted pink and striped design.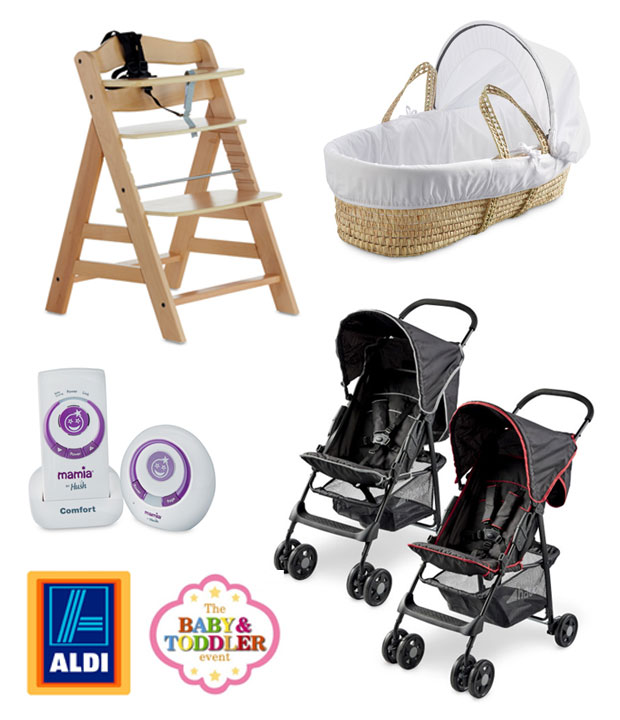 As always when the ALDI Baby & Toddler Event is on, there are a few amazing value big buys. This time around, they include:
Hauck Alpha+ Wooden High Chair £39.99

—

We have this chair and we love it! (Review here.)
Kinder Valley Moses Basket £19.99, stand available too.
Mamia By Hush Comfort Baby Monitor £16.99
Hauck Sport Buggy £22.99

—

We bought this travel pram from ALDI in 2014 and have used it loads.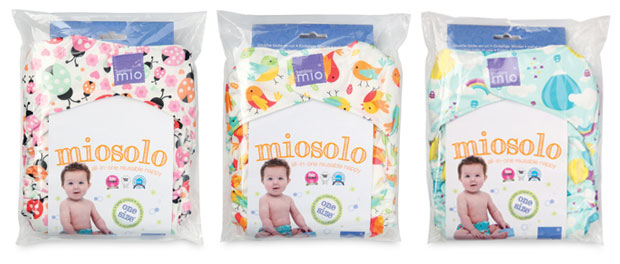 Another great item that is available this time is cloth nappies from Bambino Mio in several, very cute, designs. They're £7.99 each.
The items in this post are only a few of all the amazing baby, toddler and maternity products available in the ALDI Baby & Toddler Event. There are loads more products in store, including toys, books, feeding equipment, nappy change products, different types of blankets, soothers, muslin cloths, towels and more. See more details here and head to your local ALDI store soon — you don't want to miss these brilliant deals!
As a blogger for ALDI, I was sent some vouchers to spend on items from the Baby & Toddler Event. As always, all my posts are 100% honest and all thoughts and opinions are my own.