ALDI Baby & Toddler Event Spring 2015 Haul & Review
|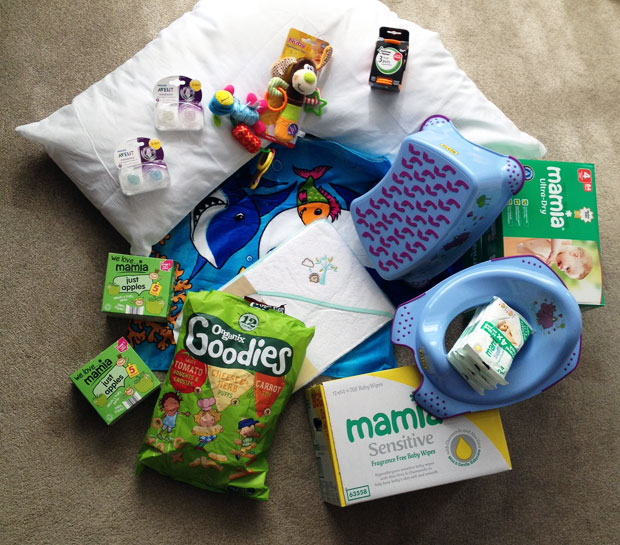 ALDI Baby & Toddler Event Spring 2015 Haul & Review
Yesterday was the first day of the current ALDI Baby & Toddler Event and of course I had to check it out. I love these events because the shop gets filled with lots of great mum, baby and toddler products which is my favourite genre for shopping.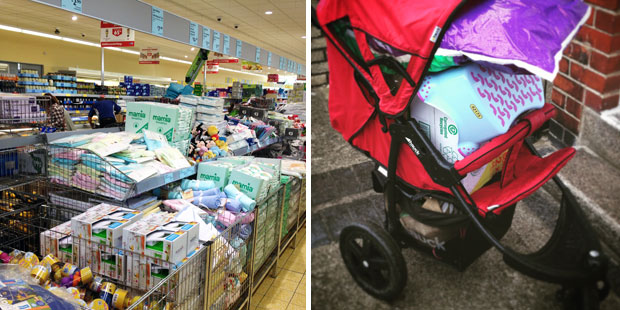 There are lots of great brands available and so many different kinds of products! I'd checked out the magazine the week before and had already spotted loads of bargains that I wanted to get. Above, you can see what our pram looked like after our shop! I stuffed all the items from the top photo in the pram to get it home and carried my daughter back in the baby carrier. So, let's look at what we got…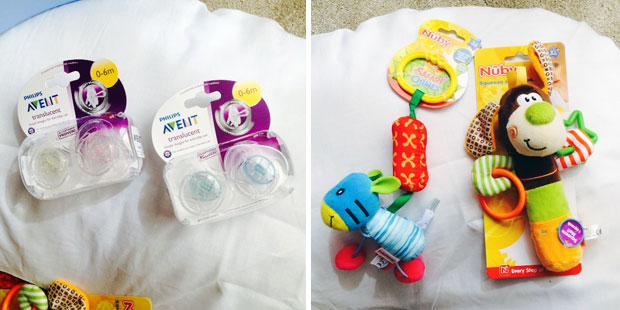 We bought two packets of Philps Avent soothers at £2.49 for a pack of 2 which is about half price to normal. These are our favourite dummies and I really like the clear style. (Review here.) We picked up two lovely pram toy teethers by Nûby. There were lots of designs to choose from. The left one is a wind chime and the right one is a squeaky dog. My daughter is obsessed with dogs and loves this one already! They cost £2.89 each. They are very entertaining, bright and colourful, make noise, have built in teethers and can be hung on your pram or cot. Lovely little things!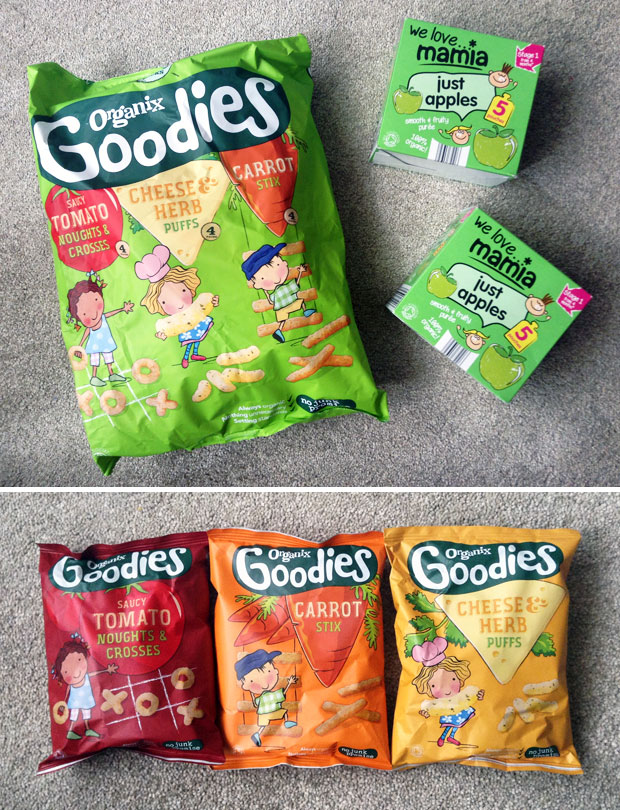 We stocked up on some edible goodies too and got a huge bag of Organix Goodies for £2.79. The big green bag is filled with 4 of each of Saucy Tomato Noughts & Crosses, Carrot Stix and Cheese & Herb Puffs. Also a bargain! We bought two packs of 5 of the Mamia 100% Organic Just Apples pouches for £1.79 each. We love these and have reviewed some of the other Mamia pouch flavours here.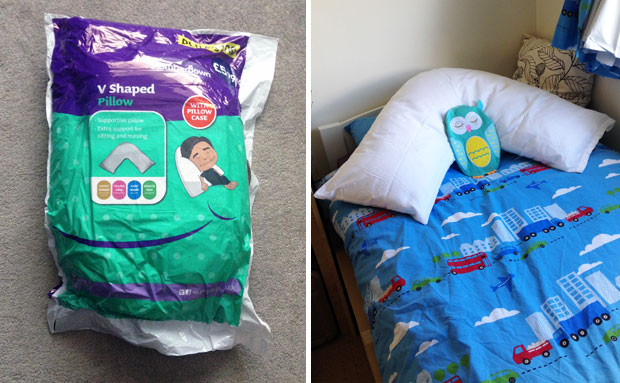 Above, you can see a lovely V Shaped Pillow that we picked up. It only cost £5.99 and included a pillow case too. I love pillows and cushions and especially maternity and breastfeeding ones like this one. I love how big it is! We have put it on our spare bed in our daughter's room to cuddle up against when we read bedtime stories. Very cosy and comfy!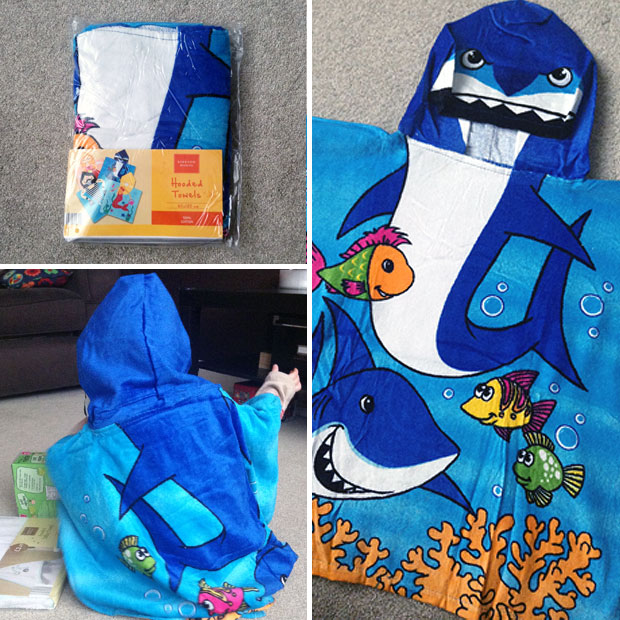 One of the things that we needed were some new hooded towels for our little girl. I found this really cool children's beach poncho towel that makes your child look like a shark and could not resist it. The colours are so bright and vibrant and it looks really cute on. It cost £3.49 and is also available as a mermaid, a princess or a strong man. This towel will be perfect for the beach or the pool this summer.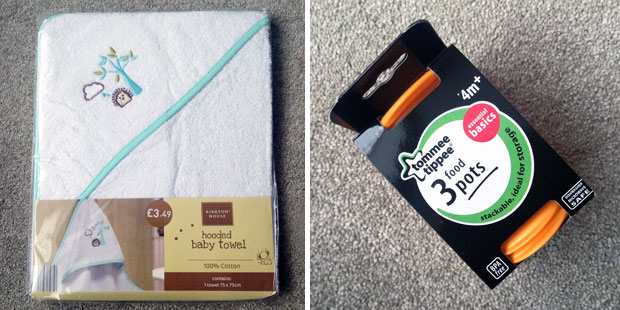 We picked up a baby towel to use at home for bathtime too. This one is white with a turquoise trim and is also available in blue or pink. It only cost £2.99 and it is such a nice quality — so thick and so soft and much better than the one we have and are replacing with this one.
I love orange and I love plastic so when I spotted these Tommee Tippee Food Pots, I had to get them. They were only 89p for a pack of 3. They are quite sturdy and the lids click on nicely. They'll be ideal for packing snacks to take with us when we go out somewhere.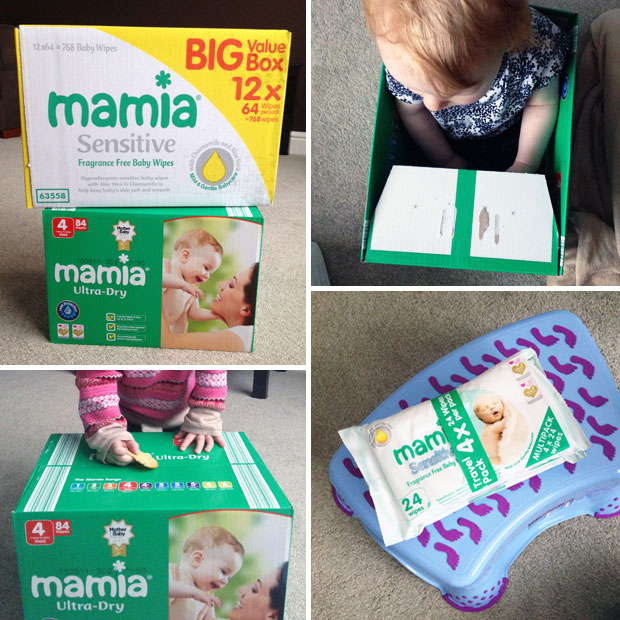 The two baby items that we ALWAYS need are nappies and baby wipes so we picked up a big box of our favourite Mamia nappies (Review here.) and a huge big value box of Mamia Sensitive wipes (Review here.).
The big boxes of nappies used to only be available during these events, but are now available all year and cost £6.79 for Size 4. The big box of wipes is a Baby & Toddler Event special and cost £5.99.
We also picked up some handy sized travel packs of these lovely wipes. They come in a pack with 4 x 24 wipes and cost £1.29. So handy for changing bags! We always play with the big cardboard boxes and our girl is always impatient and wants to sit in one straight away when we bring it home. She is very happy that we have these two boxes now.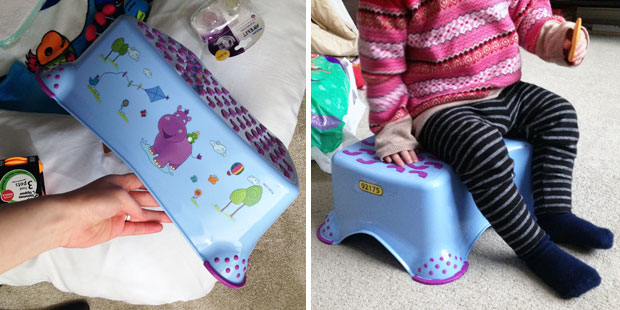 As well as being obsessed with dogs, our little daughter is also obsessed with chairs and other things she can sit on so we got this cute step stool for £2.99 that she can sit on. It has sweet illustrations on it and anti-slip feet and an anti-slip area on top too. The ones on top are feet shaped! She loves it, of course. It will also come in handy when we start toilet training soon.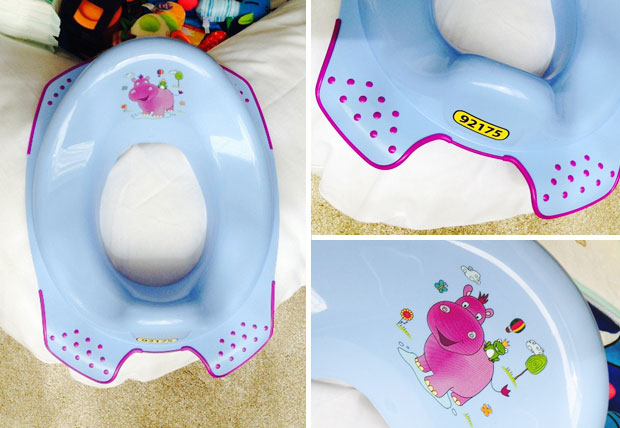 To go with the step stool, we got the matching children's toilet seat that also cost £2.99. This also has anti-slip to make sure it stays on the seat and wherever you wish to stand it when it's not in use. There's also a matching potty available for the same price and these are all also available in pink/purple or white/red.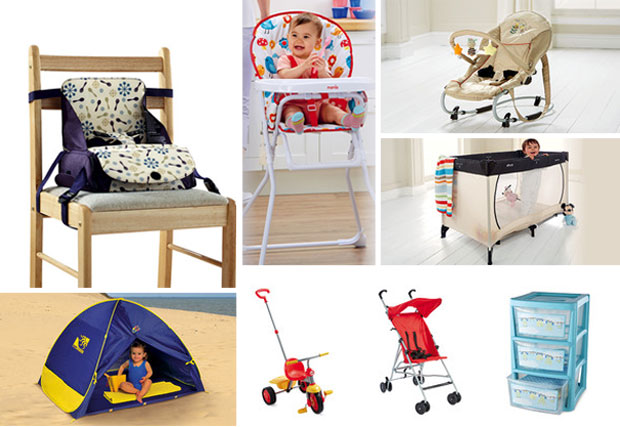 This event is full of great big buy items too such as the Munchkin Travel Booster Seat £10.99 (we bought this from ALDI in one of the previous events and we love it — will post a review soon!), Mamia High Chair £18.99, Hauck Travel Cot £19.99 and Deluxe Baby Bouncer £19.99 (if I hadn't just recently bought a travel cot, I would have got this one and I will look out for this bouncer in future events when baby number two is on its way — these products are about half price to other shops!), a UV Play Shade £17.99, Fisher Price Glee Smart Trike £19.99, Hauck Buggy £16.99 and these cute drawers for £12.99. All absolute bargains!
The items in this post are only a fraction of all the amazing baby, toddler and maternity products available in the ALDI Baby & Toddler Event. See more details here and head to your local ALDI store soon — you don't want to miss these deals!
As a blogger for ALDI, I was sent some vouchers to spend on items from the Baby & Toddler Event. As always, all my posts are 100% honest and all thoughts and opinions are my own.