The Best Newborn Nappies – Reviews
|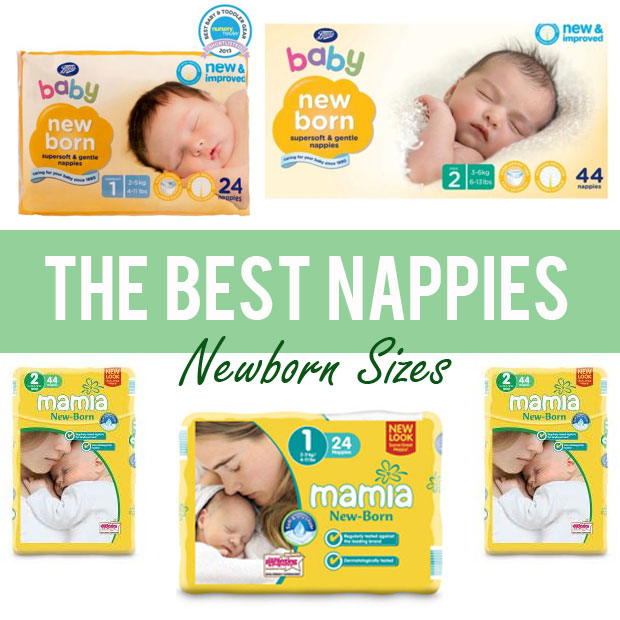 How can nappy brands be so different from each other? A nappy is a nappy, isn't it? But the quality varies so much between different brands and types. These are the best newborn nappies according to me:
Boots Baby New Born Size 1 & Boots Baby New Born Size 2
These are soft and fit our little girl perfectly when she was brand new. They are a bit smaller than other brands but that was just what we needed. Other Size 1 nappies were too big for our baby in the beginning so we started with these, then moved on to other brands' Size 1, then back to these for Size 2 and then onto other brands' Size 2.
I really recommend these if your baby is between sizes or just a bit smaller. The quality is great, too, and the price is not bad! Look out for Boots Baby Event and stock up — you can usually get 3 packs for the price of 2 then.
They also come in an even smaller size: Size 0 Low Birth Weight.
Aldi's Mamia New-Born Size 1 & Aldi's Mamia New-Born Size 2
The Aldi Mamia Nappies are my absolute favourites in all sizes that I have tried so far. The newborn ones are great! They are the softest ones of all the many brands that we have tried and also the cheapest. They make buying nappies very affordable and I'm so happy that they are not just the best value but also the best quality. The fit is perfect and the absorption is the best I've come across. My baby feels dry after a full night in a Mamia nappy and that is not something I can say about any other brands. We've not had any problems with these at all — no nappy rash or anything. They are the perfect nappies and I'm looking forward to trying all the future sizes.
Also check out The Worst Newborn Nappies.