How to Create a Mexican-themed Dinner Party
|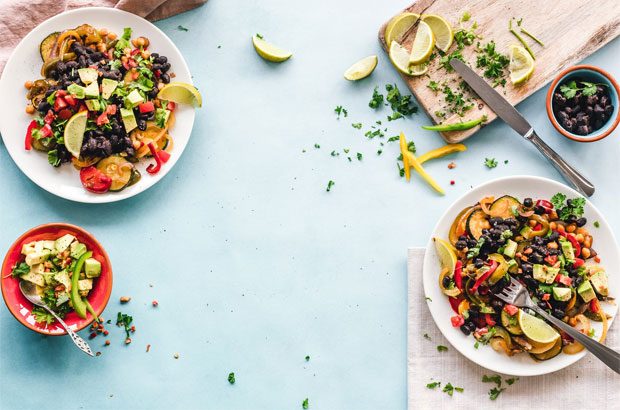 How to Create a Mexican-themed Dinner Party
Want to host a knockout Mexican-themed dinner party? Check out my essentials for throwing your very own Mexican feast.
From refreshing cucumber soup and homemade tortilla chips to Mexican red rice and sorbet margaritas, it's time to gather your amigos for a truly spectacular Mexican banquet. Follow the recipes below for an impressive Mexican-themed Dinner Party!
STARTERS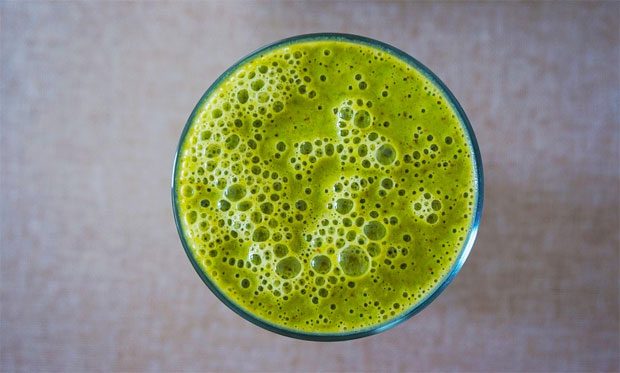 Cucumber Soup
Get your festivities off to a great start by serving your friends and family a refreshing bowl of cucumber soup. The cucumber is blended into a silky, creamy soup with buttercream, sour cream, coriander, spring onions and cayenne pepper.
INGREDIENTS
5 cucumbers, peeled and seeded
4 spring onions
50g fresh coriander
250g sour cream
180g buttermilk
1/4 tsp cayenne pepper
2 tsp kosher salt
1 jar salsa verde
METHOD
Cut up the cucumbers and spring onions, then pop into the beaker of a food processor.
Pour in the coriander, sour cream, buttermilk, cayenne, and salt. Blitz until smooth.
Ladle into bowls chilled, alongside a bowl of salsa verde on the side to spoon on top.
MAINS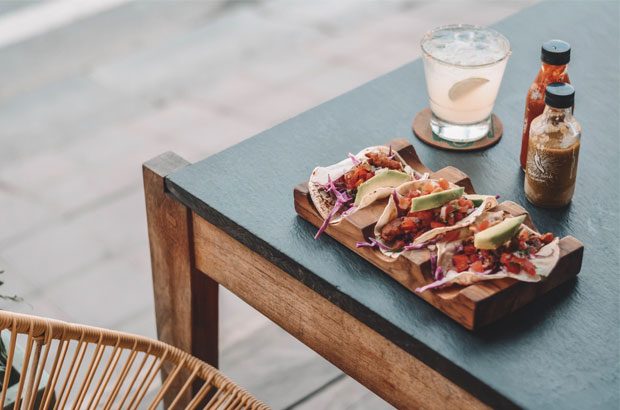 Mexican Pork
INGREDIENTS
750g skinless pork shoulder, cut into large cubes
oil
2 cloves garlic, crushed
1 tbsp smoked paprika
1 tsp oregano
2 tbsp light muscovado
200ml cider
2-3 green chillies, finely sliced
200g soured cream
a small bunch coriander, chopped
1 red onion, finely sliced
1 lemon, juiced
6 flour tortillas, large
METHOD
Preheat the oven to 160˚C. Place the pork in a bowl with one tablespoon of oil, the garlic, paprika, oregano and sugar. Use your hands to mix everything together thoroughly.
Empty into a casserole dish, pour in the cider, pop a lid on the top and cook for roughly one-and-a-half hours.
Fold the green chilli into the soured cream as well as the coriander and sprinkle with salt and pepper. Combine the red onion and lemon juice.
Remove the lid from the pork and cook until most of the liquid has evaporated and the meat is very soft. Using a fork, pull the cubes of pork apart to break them down slightly. Steam or microwave the tortillas for a couple of minutes to make them more elastic in texture.
Spoon the onion, pork and chilli soured cream into each tortilla, making sure everything is in the middle. Fold the base up and the top down and then roll the sides in to seal up the filling.
SIDES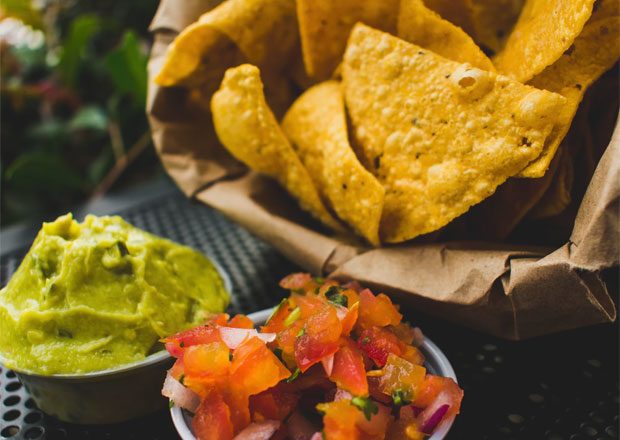 Homemade Tortilla Chips
Known as totopos in Spanish, there's nothing quite like freshly made corn tortilla chips. They're great for dipping in guacamole or a salsa – or in any recipe that calls for chips. They're beautifully light, crispy with a really authentic corn taste. Better yet, you can whip them up in less than 15 minutes – and the effort is really worth it!
Alternatively, you could cheat a bit with skin on chips from McCain. These rustic chips are huge and chunky – and are only 3% fat. Best of all, they take just 20 minutes to bake in the oven and are best dipped into guac, salsa or just eaten plain.
INGREDIENTS
12 corn tortillas
500ml cooking oil
Salt
METHOD
Warm up some cooking oil in a wide frying pan. You may need less than 500ml of oil, depending on how wide your pan is
Next, it's time to cook the tortillas in batches. Arrange a single layer of tortilla pieces in the hot oil and cook until they begin turning golden brown
Take out of the oil as soon as they turn golden, otherwise they'll burn (this happens very quickly)
Keep on frying in batches until you've cooked all of the tortilla pieces
Pop the tortilla chips in a deep bowl lined with paper towels to get rid of the extra oil
Add a little salt if you like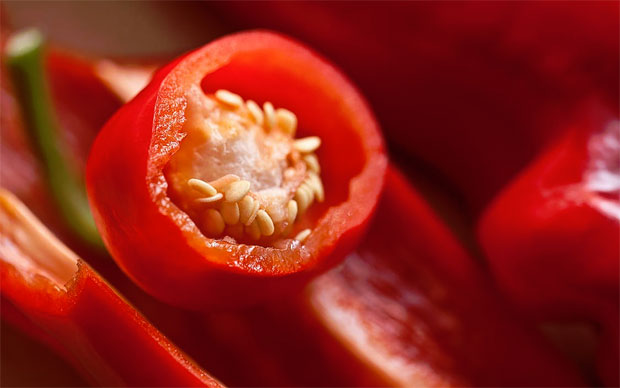 Mexican Red Rice
Soft, exquisitely seasoned Mexican red rice. With a touch of coriander, this is delicious enough to eat on its own. The secret to super-fluffy rice is the right water to rice ratio. Just remember not to use excessive amounts of tomato paste, otherwise the liquid gets too heavy, making the rice go sticky.
INGREDIENTS
1 1/2 tbsp olive oil
2 garlic cloves, minced
1/2 small onion, finely chopped
175g white rice, long grain, uncooked
435ml chicken or vegetable stock
2 1/2 tbsp tomato paste
1/4 tsp salt
1 jalapeño pepper, whole (optional)
1 sprig coriander
Finely chopped coriander leaves
METHOD
Warm up the oil in a large saucepan over medium heat. Combine the garlic, stir quickly, then tip in the onion. Cook until translucent rather than browned/golden
Pour in the rice, stock, salt and tomato paste. Mix together well until the tomato paste is dissolved
Pop in the jalapeño and coriander. Place a lid over the top, bring to a simmer, then reduce the heat to low so the water simmers gently
Cook until the liquid is soaked up (you can check by tilting the pot)
Take off the heat, keep the lid on and put to one side for roughly 10 minutes. The remaining liquid on the surface of the rice will get soaked up and rice will go from sticky to fluffy
Fluff with fork then serve – and garnish with coriander for some extra flavour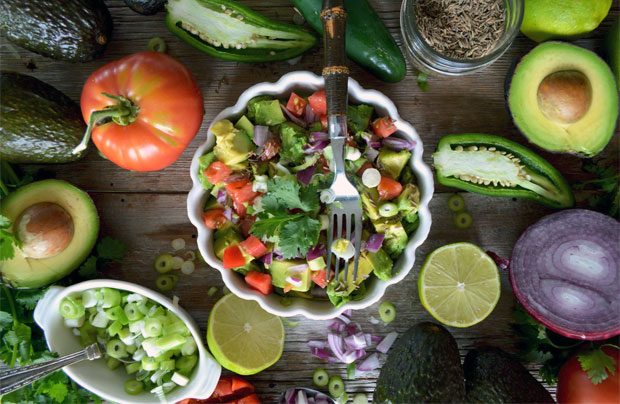 The Best Guacamole
The best thing about this guac? It doubles as a dip and taco sauce. The key to creating a great guacamole is beginning with a paste consisting of onion, coriander, jalapeño and salt.
INGREDIENTS
2 tbsp finely chopped onion
1 tbsp finely chopped jalapeño
1/2 tsp salt, plus more to taste
15g roughly chopped coriander leaves
2 medium avocados
Lime juice, to taste
METHOD
Arrange the onion, jalapeño, salt and half the coriander on a cutting board and mash up using a fork until juicy
Tip into a bowl, combine the avocado and the rest of the coriander, and mash to your liking until you get the consistency you want
You may need to add a little more salt and lime juice for a sourer taste, or a splash of chilli for added spice
DRINKS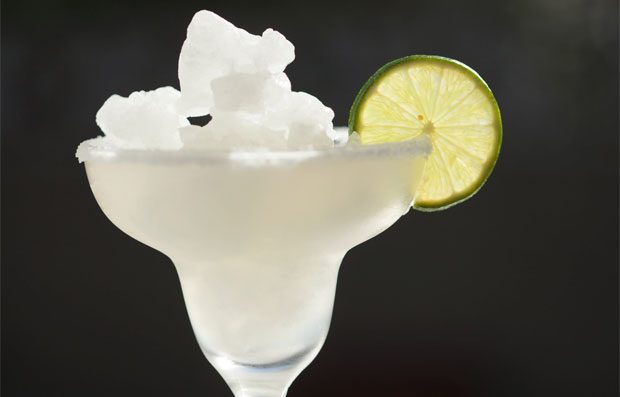 Lime Sorbet Margarita
INGREDIENTS
1 lime, cut into 8 wedges
50g sugar
2 pints lime sorbet
60ml Tequila
METHOD
Wipe the lime wedges around the rims of eight stemmed glasses. Pour the sugar on a small plate. Turn each glass upside down and dunk the rims in the sugar to coat
Place two scoops of sorbet in each glass and tip one tablespoon of Tequila over the top of each. Serve with a spoon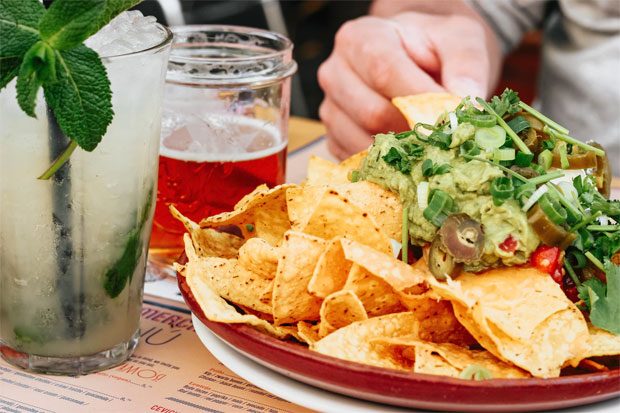 If you're thinking of throwing your very own Mexican-themed Dinner Party, be sure to include some of the above tasty treats. Your guests will no doubt think your party is delicioso!
Collaborative Post.