MAM Week – Day 2: MAM Bite and Play Teether Review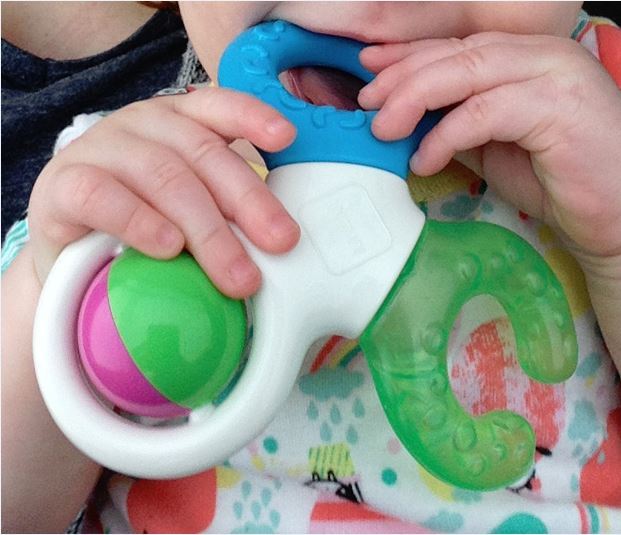 Day 2 of MAM Week is here and today we have our MAM Bite and Play Teether Review!
My baby is 9 months old now and we are still waiting for that first tooth to come through but she's been showing signs of teething and discomfort for ages and loves to chew on things.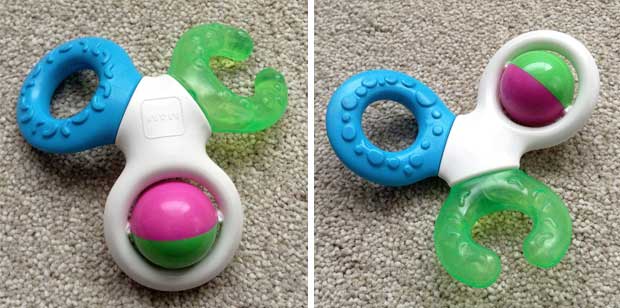 We have been testing the MAM Bite and Play Teether for a few weeks now and my baby loves it!
What's great about it is that it's not just a teether but also a rattle, which makes it a fun toy too. My daughter is into anything that makes noise or plays music so she loves shaking this teether and dancing along to the "music" that she is creating. Then when she feels she needs to chew something, she just brings it to her mouth and picks one of the teether bits to chew on.
The green one is water filled and slightly soft so can be extra soothing if you chill the teether and the blue end is firmer. The texture is different on the different bits and also different again if you turn the teether around. All three ends are angled so your baby can easily reach the right area in his/her mouth.
I did a little experiment the other day when she seemed to be annoyed with her gums: I got a whole bunch of small toys and teethers out (including the MAM Bite and Play) and put them all in front of her to see which one she'd go for. She picked the MAM Bite and Play one!
It is really attractive with its fun shape and bright colours. Other than chewing and rattling it, my baby also loves the spinning ball! Fun and good for developing her senses!
The MAM Bite and Play Teether is BPA-free and suitable from 5 months and onwards. You can buy it from Amazon.co.uk or from the MAM online shop (where it is currently half price!).
We were sent this teether in exchange for this review. All opinions and thoughts are my own and 100% honest, as always.