How Many Shoes Does a Child Need? My Three-Year-Old's Shoe Wardrobe
|
How Many Shoes Does a Child Need? My Three-Year-Old's Shoe Wardrobe
How many pairs of shoes do children need? This might be something you're asking yourself as your little one is starting to walk and exploring the world in different weathers.
My second baby started walking a couple of months ago at the age of 11 months and I'm in the process of making sure she's got the shoes she needs. This made me think of my three-year-old's shoe collection too so I thought I'd share what kind of shoes she has which represents quite well what I think is a suitable shoe wardrobe for kids.
My eldest daughter is three and a half years old and owns 6 pairs of shoes in her current size to suit all weathers, temperatures and occasions.
I'm not very bothered about making sure all shoes match all outfits in regards to colours and patterns etc. — I just want my kids to be comfortable. We mix patterns and colours all the time anyway as it's fun and kids are only kids for a short time so why not enjoy all the colours?
Back to the shoes! My eldest has the following shoes:
Comfortable Sandals for Summer
I just bought these closed toe sandals couple of weeks ago, when the weather got really hot. I chose a pair that is comfortable and adjustable, with a good sole and good air flow for warm days. These are from Asda George and cost £10.
Lightweight Shoes for Spring & Summer
These are simple plimsolls from Primark that I've bought lots of times in different sizes. They're really easy to slip on and are comfortable too. They're great for everyday wear all year round really when it's not wet or absolutely freezing but especially suitable for spring and summer. They last well too which is quite amazing since they only cost £2.50! They are usually available in different colours but black ones look nice for longer than the ones with white soles. This style is from the boys' department.
This is not a must but it's nice to keep one pair of shoes that are nice and clean for parties, weddings and restaurant visits etc. They don't have to be fancy — just clean. Kids need to be comfortable to be happy and happy kids are much easier to deal with! We have these red slip on pumps from Primark that I bought for £1 in the sale last year but the same style is available now from £2.50.
I bought a pair of chunkier high top sneakers from Primark last autumn to have a pair of warm and comfortable play shoes for colder days. They're warm and thick enough for cold autumn days and mild winter days too and are fine for spring as well. They were £9. The laces are really long and a bit annoying though so this year I will go for Velcro fastenings if I can. They're the dirtiest pairs of shoes she's got since they're used in all kinds of weather!
Rain is a big part of this country so wellies are a must for children. We have these Term Footwear Roll Top Wellies (£21.99) that my daughter absolutely loves. She uses them all the time in the garden no matter what the weather is like and if we're going anywhere and it's rainy or muddy. They have a removable sock that you use in autumn and winter. Then you remove the sock for spring and summer. When you take the sock out, the wellies are one EU size larger so they will last you longer which is very clever. Read my full review here.
These are essential if you live somewhere where it gets very cold in the winter. I'm from Sweden and we often visit in the winter so appropriate footwear is a must for just being outdoors whether you're playing in the snow or just walking somewhere. It usually gets really cold and feet freeze fast in the wrong kind of shoes. These are from H&M and they're waterproof and warm-lined.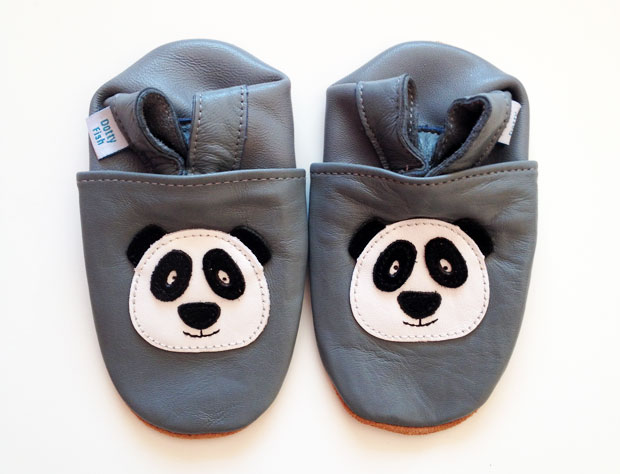 Extras: Slippers & School Shoes

We also have a pair of leather slippers from Dotty Fish (£7.99) and a pair of moccasins from H&M that we use sometimes at playgroup, kids' parties or at my mum's house where there are no carpets — slippery floors! You don't need to have slippers but they're convenient when you want to keep your child from slipping around but you don't want them to wear their outdoor shoes. They're comfortable too and great for chilly days.
If your child is in school, they'll probably need designated everyday school shoes and sports shoes for school too.