Party Bags & Supplies Safari Adventure Party Pack Review
|
Party Bags & Supplies Safari Adventure Party Pack Review
Party Bags & Supplies is an online specialist party supplier for parties for kids, teens and adults and they have supplies for all kinds of occasions and celebrations, including baby showers, birthdays, weddings, summer themes including Hawaiian & Barbecue, Hollywood Theme Party, Christmas, Halloween and much more.
The children's range is very extensive and there are lots of themes ranging from classics like dinosaurs, pirates, princesses etc to the very latest character and film themes like Minions, Frozen, Big Hero, Paddington, Peppa Pig and many more.
For kids' parties, they have amazing party packs that contain almost everything you need for your party, making organising your child's birthday really easy and quick.
The pack arrives at your door with everything you need for decorating and setting the table and with party bags for your guests. The contents of the bags and the bags themselves match the themes of course.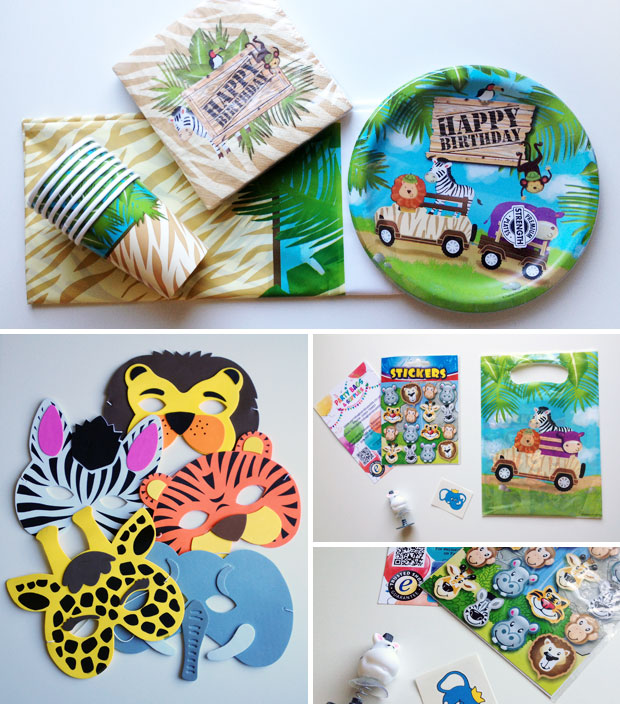 We ordered the Safari Adventure Party Pack For 8 and it contained:
8 Paper Cups
8 Paper Plates
16 Napkins
1 Tablecover
8 Safari Adventure filled party bags each containing: 1 Soft wild animal mask (assorted designs), 1 Animal Toy, 1 Wild animal sticker sheet and 1 Wild animal tattoo.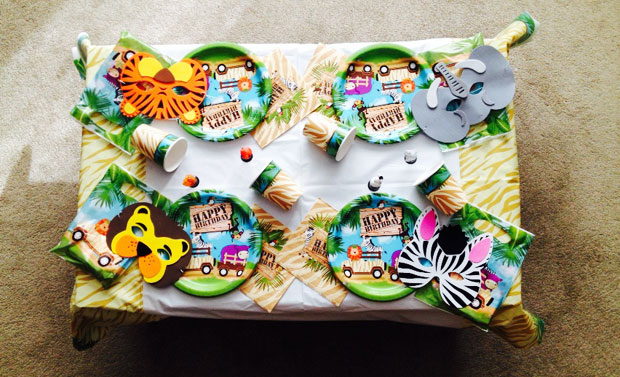 The table decorations looked lovely and the contrast with the more neutral colours of the table cloth looked great with the bright plates and animal masks. The animal toys can be matched up with the masks so that whoever gets the tiger mask gets a tiger toy and so on. The masks are really lovely, by the way. The quality is really nice and the colours are bright. We got a lion, a tiger, a zebra, a monkey, 2 giraffes and 2 elephants and they are still being played with. The stickers are cute, too, and the little toys are lots of fun for little ones even though they scare me when they suddenly jump! Tattoos are always popular and you could even apply them during your party.
The table cloth is large, about three times bigger than the small table we used. (We had to have our little party in the living room since we have the floor up in the kitchen at the moment.) The plates and cups are nice and sturdy and I like that you get plenty of napkins because they are always needed.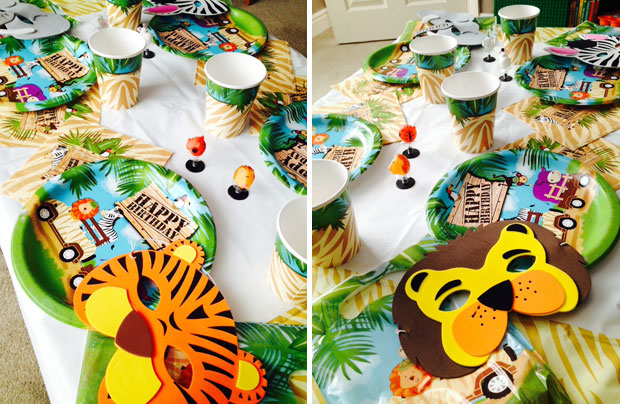 These kits make it so easy to host a children's party. This one costs £28 and it's definitely worth it when you think of all the work and time you're saving. Perfect for busy mums and dads!
If you wish to throw a no-fuss kids' party, check out Party Bags & Supplies' website for lots of ideas and great party kits. There are loads of different themes to choose from and kits for all kinds of budgets. You'll definitely be able to find items that your child will love. Be sure to let them know the date of your party to make sure your kit gets to you in plenty of time and enjoy a fun kids' party with much less stress and planning needed.
I've got a special dicount code for my readers that gives you 15% off your order. Here it is:
AMUM15
We were sent this kit for this review. As always, my reviews are 100% honest and all thoughts and opinions are my own.