SnoozeShade for Infant Car Seat Review
|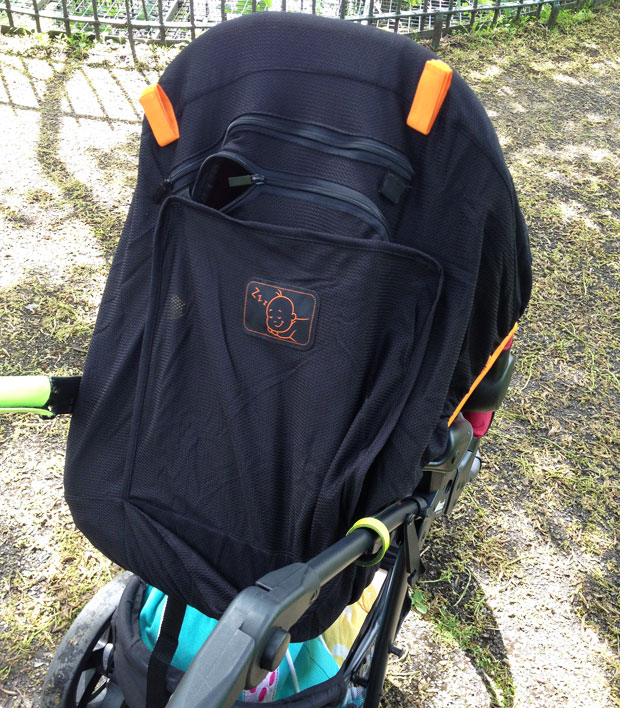 SnoozeShade for Infant Car Seat Review
Summer is definitely here now! We've already had some really sunny days and this week, we have quite a heatwave! Sun protection is very important to my family as we're all sensitive to the heat and the sun. We have fair skin and blonde or ginger hair which mean we burn easily.
All babies under 6 months need to stay out of the sun completely as sun creams are not suitable for young babies as their skin is too delicate and does not have enough melatonin to prevent sunburn yet. Shade is the only option when you are outside and something that offers 360-degree protection is the best.
My newborn daughter has reflux so only travels in her car seat whether we go by car or use the travel system. Being upright helps her not be sick so much and keeps her more comfortable.
How do you protect a baby from the sun when they're in a car seat? A pram umbrella is one option but they are silly, in my opinion, because you have to keep moving them to adjust them as the sun moves or you move or turn. Another option is to cover the car seat with a muslin cloth but they are difficult to keep in place. You can use clips but then you still can't see your baby to check on him/her and you don't know for sure how much protection a muslin cloth gives.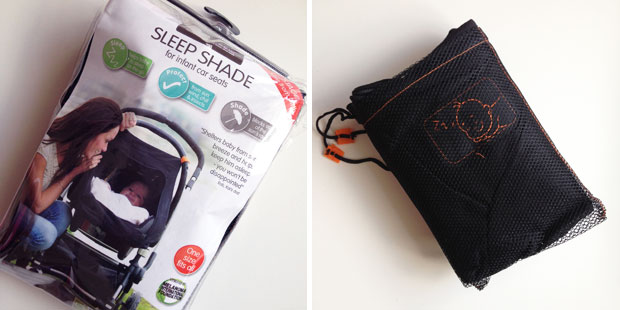 The solution is the SnoozeShade for infant car seats. SnoozeShade is Britain's best-selling range of baby sunshades and sleep aids. The range includes sun shades for prams and pushchairs, cots and car seats. They offer high level sun protection and help babies sleep.
The award-winning SnoozeShade for infant car seats fits most Group 0 and 0+ infant car seats with a rigid carry handle. The black version that we have protects from up to 99% of UV rays (UPF50+).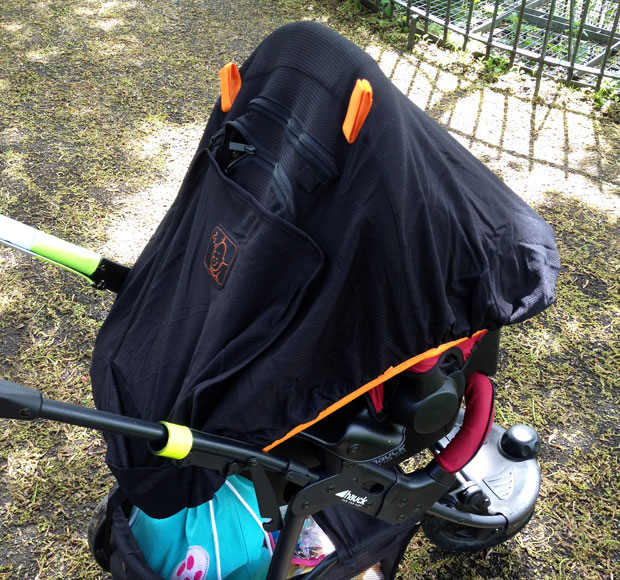 Unlike other sun covers for car seats, the SnoozeShade provides all around protection and keeps bright sun out of little eyes but lets your baby enjoy the sights in the shade.
All SnoozeShade products are very high quality and designed to exceed existing safety standards. There are no long straps and the zips are strong YKK ones to make the products safe. 
This product is genius and so easy to use! It comes in a handy storage pouch and when you need it, you just get it out and put it on. You don't need to attach it in any way as it just fits around your car seat. Depending on the design of your car seat you can attach the orange straps onto the handle. Our car seat has a cover on the back already and this goes over the handle so the SnoozeShade just fits over the whole car seat.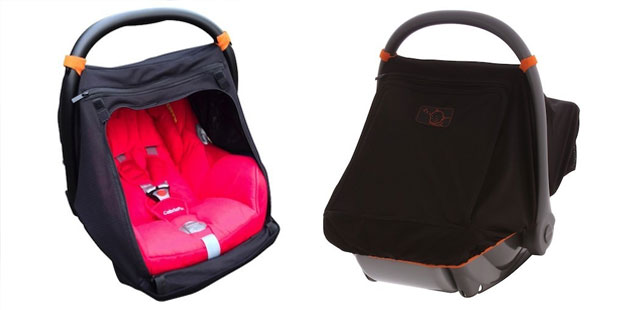 The front has two zipped areas. One large one that can be rolled down if you only need protection from the sides and above. This panel can be stored neatly in a pocket at the bottom. This part has two overlapping bits as you can see in the photos below. This means you can easily create an opening as big or as small as you wish. The top zip lets you open the shade a bit to have a peek at your baby without letting in too much light that might wake a sleeping baby.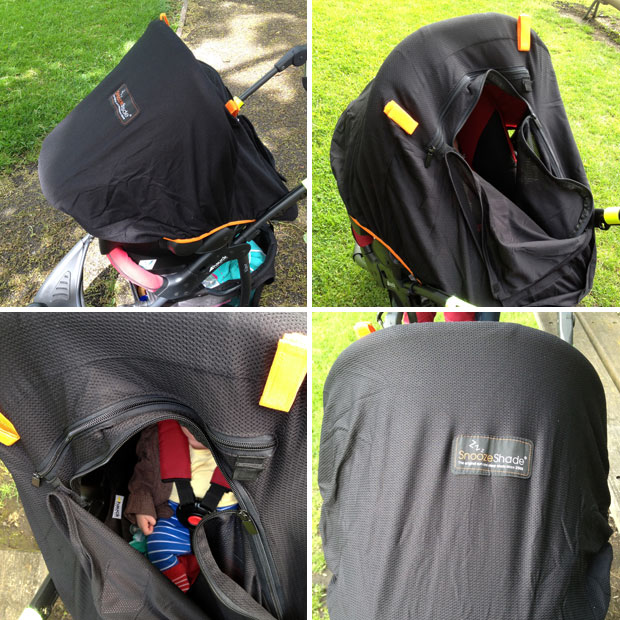 We've used this item so much already and it's definitely a must-have if you have a young baby and it's summer. I don't know what we would do without it! We would not be able to go out much in the daytime without it as it would be so difficult to protect our newborn from the hot sun.
You can also use the SnoozeShade over the rest of the year to protect your baby from insects, wind, chill and even light rain or to just help them nap as most babies sleep better and longer in the dark.
The SnoozeShade for infant car seats costs £24.99 and can be bought directly from SnoozeShade or through Amazon.co.uk, for example.
We were sent this item for this review. As always, all my reviews are 100% honest and all thoughts and opinions are my own.