The Body Shop's Limited Edition Best of Mum Range
|
The Body Shop's Limited Edition Best of Mum Range
Mother's Day is just around the corner and to celebrate The Body Shop have created a new limited edition product range called Best of Mum. The range is inspired by some of the most iconic The Body Shop items of all time and includes beautiful gift sets perfect for treating your mum this Mother's Day. The products come packaged in beautiful limited edition packaging that's so pretty and perfect for spring.
There are lots of The Body Shop gift sets suitable to give away this Mother's Day but some of the new ones include:
The Iconic Collection (£30) with five full sized favourites: Moringa Body Butter, Vitamin E Moisture Cream, British Rose Bath Foam, Fuji Green Tea Shower Gel and Shea Hand Cream.
The Mini Iconic Collection (£15) with five miniature favourites: British Rose Body Butter, Moringa Body Scrub, Shea Hand Cream, Fuji Green Tea Shower Gel and Vitamin E Moisture Cream.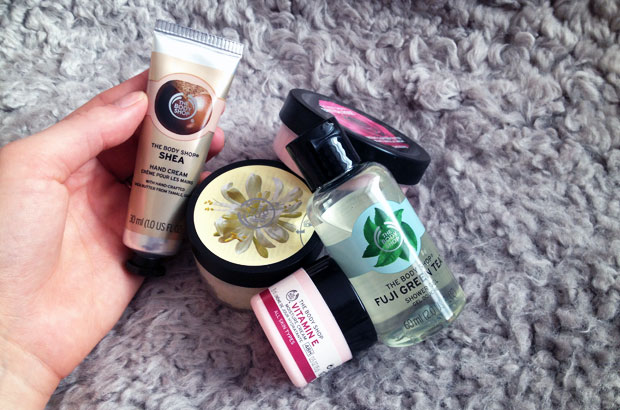 The Shower Gel Collection (£8) with four mini shower gels: British Rose, Moringa, Fuji Green Tea and Shea.
The Hand Cream Collection (£10) with three protecting hand creams: British Rose, Moringa and Shea.
I have the Mini Iconic Collection and love the small sized products. They're great for travel and perfect for trying out new products and finding new favourites. The Shea Hand Cream and Vitamin E Moisture Cream are already favourites of mine — I've been buying them for years! The other three products are new to me but I'm already in love! There are no better body butters than the ones from The Body Shop and this one is beautifully British with its rose scent. The Moringa body scrub and the green tea shower gel are both refreshing and the scents are so suitable for spring.
I'm sure most mums would love to receive one of these gift set for Mother's Day. There's something for all budgets, too!
I received a gift set for the purpose of this post. As always, all thoughts and opinions are my own.