Our Day At The Baby Show Birmingham With Aldi Mamia
|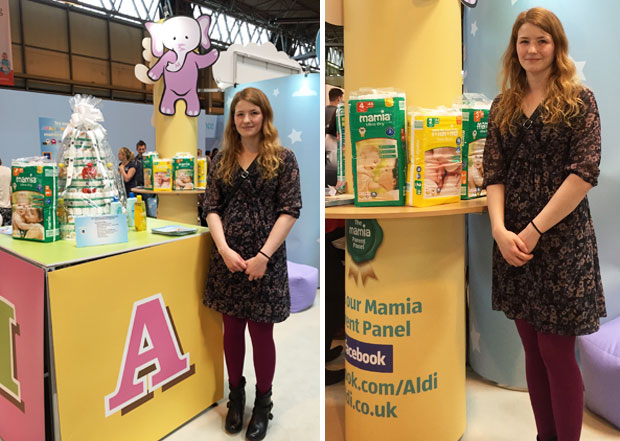 Our Day At The Baby Show Birmingham With ALDI Mamia 
On Sunday I went to The Baby Show at the NEC in Birmingham with my husband and toddler daughter. I was sponsered to go by ALDI who were a big part of the show with one of the bigger stands (with an impressive nappy cake that you could win) and also a huge baby nappy changing area where they supplied free nappies, wipes and a safe place to change your baby. This was a perfect way to introduce their nappies and wipes to parents who haven't yet discovered them and it was great for us since they are the nappies and wipes we usually use.

The Baby Show is a pretty big event and it was very popular and full of visitors. We tried to get there early but got slightly lost due to conflicting road signs for the NEC. We vowed to just follow the instructions on our map app next time. We got there for about 11am and the place was buzzing with fun brands and curious parents.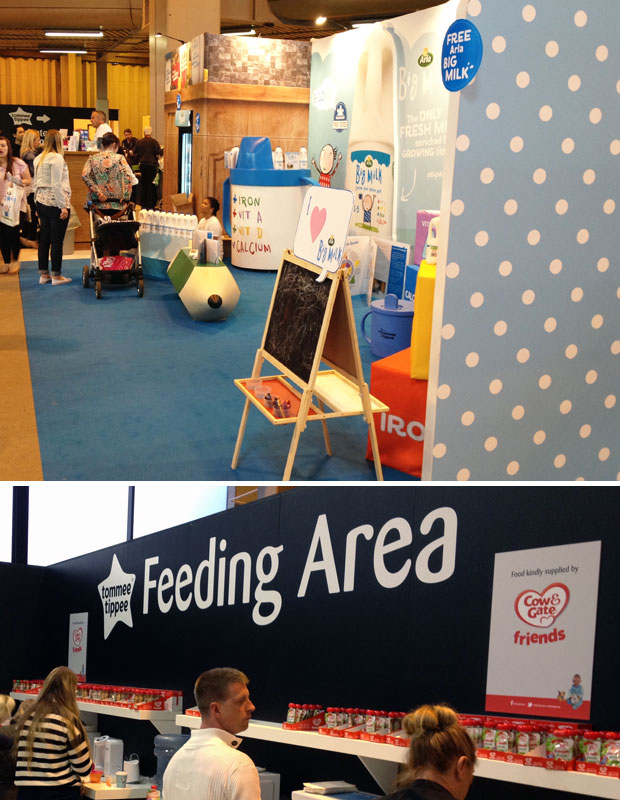 One of the first stands that we saw was the Arla Big Milk one. Arla have just launched a new product which is a vitamin enriched milk for toddlers to drink when they move from breast milk or formula to cow's milk. This new milk ensures your child still gets all the vitamins he or she needs. I like it and will have a look for it in the supermarket. You could sample it there and also take a big bottle with you but our drive home was too long for that. Below to the right, you can see me lifting a huge Tommee Tippee sippy cup for a photo competition with Arla Big Milk. It was so heavy (solid wood, I think!) and looks just like the ones we have at home that we bought from the ALDI Baby Event.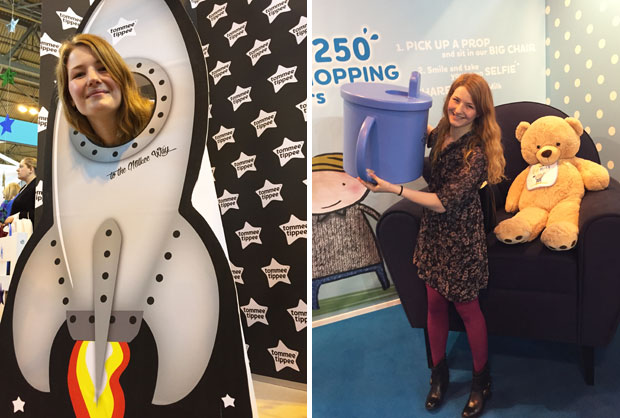 There were lots of fun to be had in many of the stands. At Tommee Tippee I went for a ride in their space ship (#ttbigadventure) and met up with a few other bloggers to hear about the new Tommee Tippee products. You can see some of them in the photo below. There will be more about them here on the blog in the near future.
There was also a Tomme Tippee Feeding Area with equipment to make and warm bottles and lots of free first food samples from Cow & Gate, including spoons to eat it with. A very helpful and good idea! Together with the ALDI Mamia Changing Area, you had everything you needed for your baby.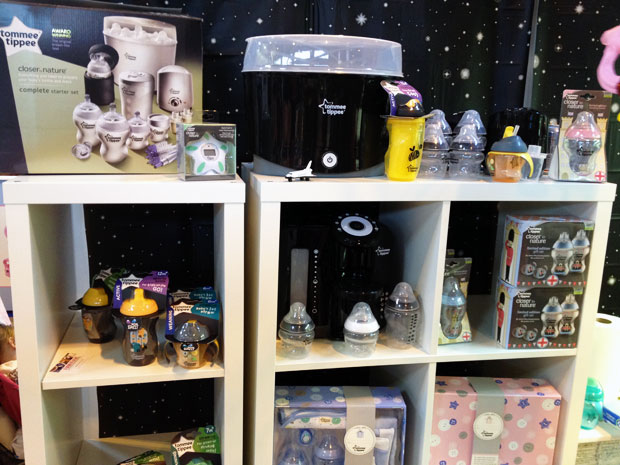 We found loads of our favourite brands and their lovely stands. Some that we know extra well are below. The shoes that my daughter wears are by Bobux (review here), our video baby monitor that we use every single day is by Chicco (can review soon), I was part of the focus group forum when nutrimum was being developed (review coming soon) and Diono makes one of my favourite newborn baby products ever — the Cuddle Soft (review here).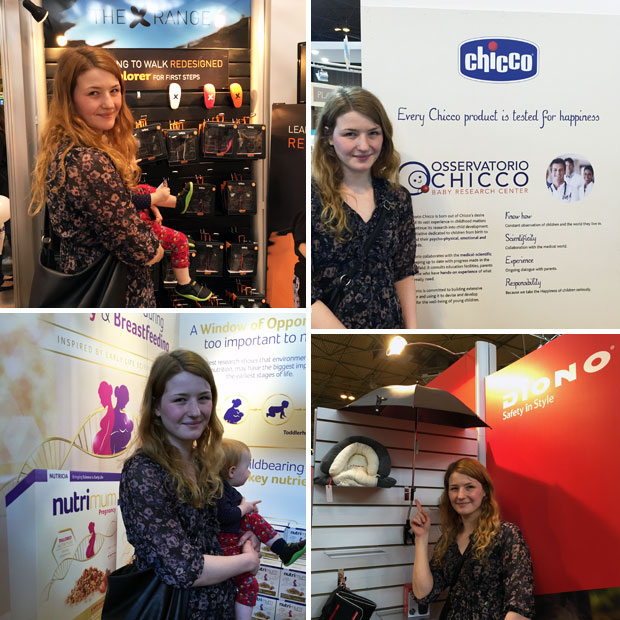 The best photo opportunity of the show was the Stokke stand where they had HUGE versions of their classic furniture. My sisters and I had these exact furniture when we grew up so it was all very nostalgic to me. As a Scandinavian myself, I like the sign in the background with Stokke's slogan "Scandinavian thinking". The Stokke Tripp Trapp chair is very popular in Sweden and the rest of Scandinavia.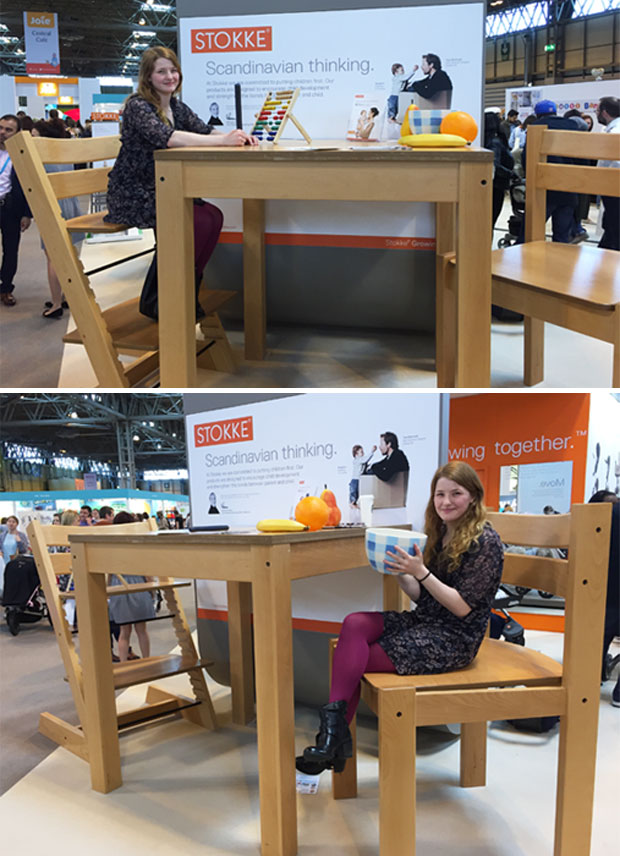 Another great product that we have at home is this foldable bath called Flexibath that is now made by Stokke. It was previously made by A real cool world. We use ours all the time since we only have a small bathroom and currently just have a shower. This bath fits next to our sink folded up and comes out every second night for bath time. We have one that's bright orange — my favourite colour. We love it and it's made bath time possible for us (instead of just having shower time).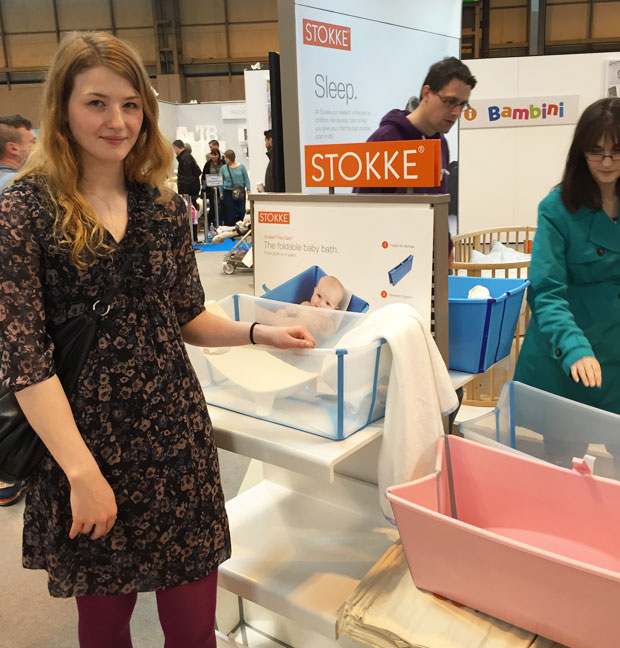 Another brand that's very important to us is The Gro Company. We started using a grobag (review here) as soon as we could and they are great! We recently installed a gro-light too (review here) and they are brilliant! The gro-hush is great for smaller babies too (review here).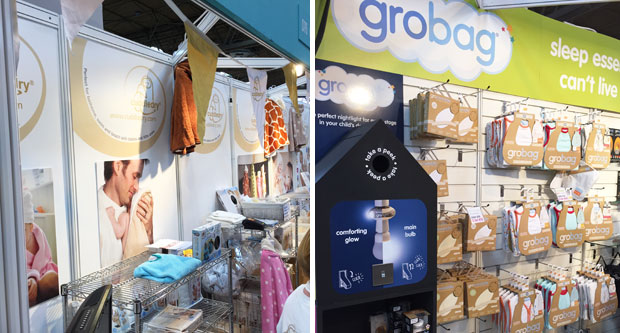 Cuddledry had a lovely stand too, showing their beautiful towels. We've not got one yet but it's on our wish list. They are so beautiful! Cuddledry have a great Twitter account with lots of baby care tips.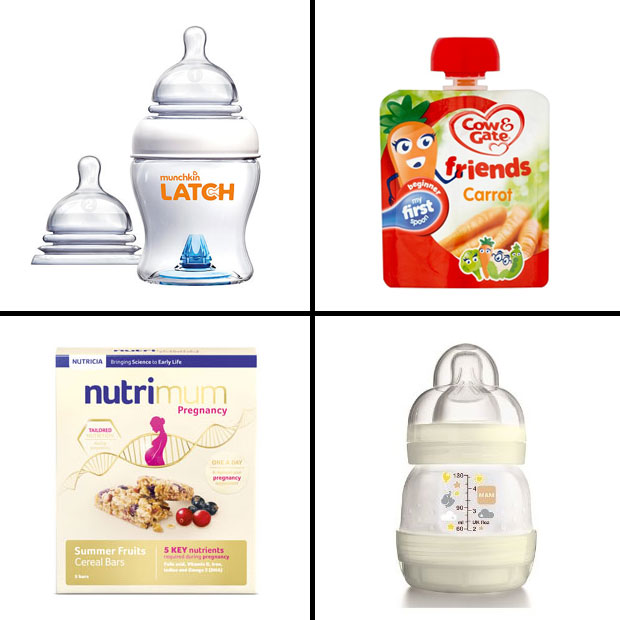 There were some great freebies at the event too including a Munchkin Latch bottle, Cow & Gate baby food, nutrimum bars and cereal for pregnancy and breastfeeding (more about them coming soon!) and a MAM Anti-Colic Self-Sterilising bottle. MAM is one of my absolute favourite baby brands and we love their bottles, breast pump and accessories. I'm so happy to have a new one of these bottles. They are really clever!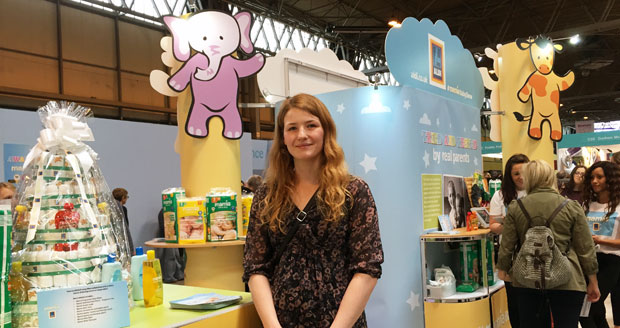 There were loads of other great brands there too, of course! It was a great day and I got to see many of my favourite brands and discover some new ones too. Thank you to ALDI Mamia for inviting me! We had a great time!

Aldi provided me with a ticket to the show, a pre-show set of Mamia products and reimbursement for my travel costs. As always, all my posts are 100% honest and all thoughts and opinions are my own.